Baking Soda: Over 500 Fabulous, Fun, and Frugal Uses by Vicki Lansky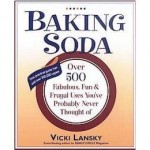 Just about everything you can do with this great environmentally friendly product is listed in this fun, yet practical compendium. Learn dozens of new uses for baking soda in 15 different categories from Cooking to Hygiene to House Maintenance. Learn how baking soda works and how it became one of America's most versatile and trusted products.
Click here to check availability.