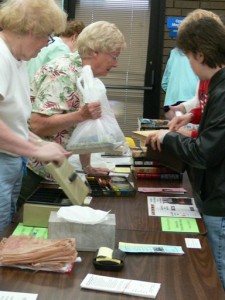 Become a part of a group of men and women who believe in a vital, progressive public library in our community.
Membership
Join the Friends of the Newton Public Library by completing and returning this membership form to the Library. If paying by check, make it out to "Friends of Newton Public Library."
Annual membership: $10
Lifetime individual membership: $50
Basic Principles
Appreciate good books, art, audiovisual materials and all information sources that enrich our lives
Believe in the Freedom to Read
Endorse the philosophy and objectives of the Newton Public Library
Support Library legislation
Host Library events
Serve as volunteers
Hold a Book Sale in the spring and donate the proceeds for the benefit of the Newton Public Library
Support the Second Century Endowment Fund established for the benefit of the Newton Public Library
Book Sales and More
Specialty book sales featuring mysteries, romance, and children's books are held periodically. Cart sales will resume in June.
Friends Annual Book Sale: usually the last weekend in April. All booksale proceeds benefit the Library. A semi-annual sale is also held mid-October.