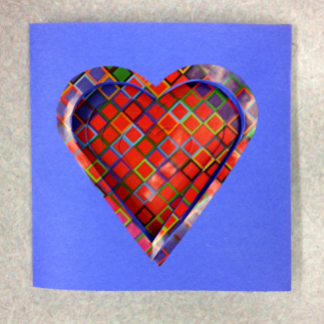 At our next Bookish Papercraft night at Newton Public Library, January 13 at 7 p.m., we'll be making an easy but striking Valentine's card with papers from books that are in poor condition or scrap papers we've found languishing in forgotten corners. Our Papercrafts nights are always free, no registration necessary.
I call this a pop-through card because the design begins on the front of the card and spirals through the heart cut-out to the inside of the card.
Materials needed: Paper, scissors, and craft glue.
This card is square, measuring 5.5 x 5.5. Unfolded, the paper measures 5.5"h x 11"w.
The paper heart is cut in a spiral pattern. Place the pattern below on your chosen paper and cut along the solid lines.