Second Century Library Foundation – Newton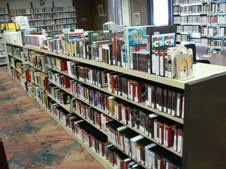 The Second Century Endowment Foundation was established in 1986, upon the celebration of the first century of operation of Newton Public Library. The mission of the Second Century Endowment Foundation is to enhance the adult collection of the Newton Public Library by increasing and promoting educational, literary and artistic resources available to our community.
In 2011, the Foundation became an affiliate of the Central Kansas Community Foundation, Inc. with the new name: Second Century Library Foundation – Newton. The funds will provide for an annual income for enhancements beyond those possible through general operating funds.
More than just books are needed at Newton Public Library to be a part of today's information society. Audio/visual materials, art works, computer programs and on-line access have joined the books and magazines to provide information and recreation to individuals. A gift to future generations through the Second Century Library Foundation – Newton will make you a part of the legacy which will keep Newton Public Library an important informational and recreational access location for the community. Make it happen!
Add to the CD/DVD/e-book collections.
Continue a quality music collection.
Add to the reference and business collection to better serve the community.
Enhance the genealogy collection to help family researchers.
Upgrading of all resources available in the library.
Keep pace with technological information.
Use this form or this link to send gifts or pledges to:  Second Century Library Foundation – Newton, Newton Public Library, 720 North Oak Newton, Kansas 67114
The Flower & Garden Tour
The Second Century Board hosted the 2019 Newton Flower & Garden Tour on June 8 and 9 to benefit Newton Public Library enjoyed by many people on a beautiful weekend. Mark you calendars for the 2020 Tour and fund raiser which will be held Saturday, June 13, 9 AM – 12 PM and Sunday, June 14, 1 – 4 PM. Come celebrate the 25th anniversary of the Flower & Garden Tours!
See highlights from the 2017 Flower and Garden Tour.
See highlights from the 2012 Flower and Garden Tour.
See highlights from the 2010 Flower and Garden Tour.
See highlights from the 2009 Flower and Garden Tour.
Second Century Library Foundation Advisory Board Members are:
Angela Buller, President (Friends of NPL Representative)

Charlie Robinson, Vice-President

Marianne Eichelberger, Secretary (Library Director)

Ashley Klein (Library Board Representative)

Mary Anne McCloud
Rick Beck
Liz Pomeroy

Mary Anne McCloud

Margie Knupp
Cathy Edwards
Beverly McGee
Call 316-283-2890 for more information.
Florence Bessmer
Miss Florence Bessmer established The Florence Bessmer Foundation in 1979. The Foundation provides for the housing and equipment for modern, educational and entertainment programs and uses for children, including furniture, shelving, books, materials, audiovisual and learning aids, as well as for facility enhancements. She established the fund because for most of her 100+ years she was actively and ardently interested in the welfare of children. The Florence Bessmer wing was completed in 1980 and serves as a meeting room for library and public functions. Income from the Florence Bessmer Foundation currently provides for special programs, print and nonprint resources for children, and more.
The Florence Bessmer Foundation Board members are:
Ron Lang,  Chairman
Ray Penner, Treasurer
John Robb, Secretary
Ann Adrian, NPL Board President