Newton Public Library and the State Library of Kansas provide digital materials to enjoy on a number of different devices. Browse and search hundreds of audiobooks, ebooks, videos, and music.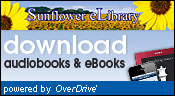 Newton Public Library has joined Sunflower eLibrary. Through a contract with OverDrive, audio books, ebooks, music and videos are available, using your Newton Public Library card.
Hoopla is another source of digital eBooks and audio books, but additionally, enjoy music and videos! Patrons may borrow five items each month with the Newton Public Library card.
The State Library of Kansas provides digital titles to state residents through the Digital Book eLending. Begin with a one-time registration from Digital Book eLending with your Kansas Library Card, available at any public library.
The State of Kansas also participates in Open Library.
For kids, check out resources from the State Library! Or watch the book, read the story with Book Flix from Scholastic.
New Digital Magazines: Read your favorite magazines on your digital devices with Flipster.
Other free online sites:
AddAll Ebook Metasearch |  Bartleby | Bibliomania | Book Flix | Bookyards | eBooksDownloadFree | ebookShare | Free-eBooks.net | FreeTechBooks | Gale Virtual Reference Library | GetFreeBooks | Google Books | Inkmesh | International Children's Digital Library | Internet Archive | KnowFree.net | LibriVox.org | ManyBooks | NCBI Bookshelf | Online Books Page | Online Library of Liberty | Open Library | PDFGeni | Project Gutenberg | Read Print | RealtimeNexus | Search PDF eBooks | Telltale Weekly | Universal Digital Library | Virtual Reference Library