Researching family history is a popular topic of interest in our area.
Resources
Newton Public Library has many resources for genealogy research, as well as a Genealogy collection which includes an admirable collection of New England genealogies before 1850, DAR Patriot Indexes, and assorted other family histories.
SCKLS Digital Library Initiative is collections that may include text documents, letters or diaries, maps, photographs, audio and/or video files that reflect the history of an individual library and its community, or are of general historical interest.
HeritageQuest is available to Kansas residents and provides access to census records, books and articles on family histories and some Revolutionary War and Freedman's Bank records.
Ancestry Library Edition is available on computers used in the Library. This collection has approximately 6,000 databases and billions of names. 
FamilySearch now offers free, online access to most of its large collection. Newton Public Library is a FamilySearch affiliate, meaning that you can use library computers to access certain records that are not available at home.
Local research resources include Newton City Directories, The Newton Kansan on microfilm (1872-present), Federal and State Censuses for Harvey County (1860-1930), Newton and Harvey County histories, an obituary index to The Newton Kansan, and indexes to Harvey County cemeteries. The Library's microfilm reader/printer with scanner is available for use by genealogists and other patrons. A searchable digital archive of The Newton Kansan beginning in 2001 is available in the Library.
Review these genealogy web links (links in bold are Library subscription databases):
Ancestry.com | Ancestry Library Edition (inside Library only) | Atlas of Historical County Boundaries | Big List of Genealogy Links from USA People Search | Cemetery Records from Greenwood and Restlawn from City of Newton | Cyndi's List | DAR Genealogical Research System | DeathIndexes.com | Ellis Island | Family History Internet Sites compiled by Kip Sperry | FamilyLink | FamilySearch from LDS | Federation of Genealogical Societies | Find A Grave | Genealogy Connect | Geni | GenForum.com | Harvey County Roots with searchable, editable database | Harvey County Genealogical Society | Harvey County Historical Society | Harvey County Register of Deed | HeritageQuest | Interment Cemetery Records | Kansas Genealogy from Access Genealogy | Kansas GenWeb Project | Kansas Heritage Group | Kansas Historical Society | Kansas Vital Statistics | Linkpendium | Live Roots | Mennonite Library and Archives | National Archives Resources for Genealogists | Native American Genealogy from Access Genealogy | Netronline real estate information and public records research | One-Step Webpages by Stephen P. Morse | Public Records Guide | Public Records Resources from the U.S. Dept. of Justice | RootsWeb | SCKLS Digital Library Initiative digital collections of libraries of the South Central Kansas Library System | SearchSystems free public records search | Social Security Death Index from GenealogyBank |U.S. GenWeb Project | U.S. Newspapers from GenealogyBuff | U.S. Ports of Arrival and Their Immigration Records | VitalRec.com | WorldGenWeb Project
For a description of the process for adding information to the Harvey County Genealogical Society's database that has every headstone in Harvey County, read Harvey County Genealogy Database Step-by-Step by Darren McMannis.
Vince Marshall's website on Grave Dowsing.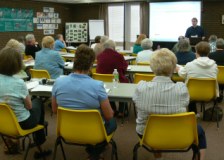 Programs
A group of interested people meets the third Tuesday of each month at 7:00 p.m., usually in the Bessmer meeting room, to help each other with searches, use the Library's laptops and share strategies and information. All are welcome to this free event. Check the calendar for updated information on topics.
Using Newspapers step-by-step guide to using newspapers.com through KSHS free resources.
Family Tree User Guide resource discussed at meeting on January 21, 2014.
DNA Handout 1-20-15 resources presented by Paul Smith, Midwest Historical and Genealogical Society.