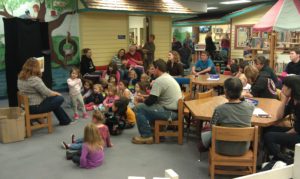 StoryTimes, Summer Reading Program, fun things to do during school breaks, and other special events are enjoyed by kids at Newton Public Library. Learn more by checking the Library Happenings or the online calendar.
StoryTime
Preregistered participants enjoy a weekly StoryTime with puppets, songs, rhymes, crafts, and, of course, stories!
Children ages 2 1/2 – 5 years old may enroll for Preschool StoryTime. Toddler StoryTime entertains children ages 6 months – 2 1/2 years old.
Spring StoryTimes begin January 8 and continue until April 21, except for the week of spring break, March 20-24.
Spring Preschool StoryTimes are:
Mondays @ 7:00 p.m.
Tuesdays, Thursdays or Fridays @ 10:30 a.m.
Spring Toddler StoryTime is:
What do the puppets do when the Library is closed?