Newton Public Library provides digital materials to enjoy on your smartphone, tablet, PC or streaming device! Browse and search thousands of e-audiobooks, e-books, streaming videos, and streaming music.
Need a hand getting started with digital borrowing? Please call 316-283-2890, email library@newtonplks.org, or visit the Library. We are eager to help!
Sunflower eLibrary and the Libby App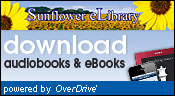 Newton Public Library is part of Sunflower eLibrary, a consortium of Kansas libraries that share a large collection of digital materials. E-audiobooks and e-books are available once you log in using your Newton Public Library card number and PIN. For most tablet and smartphone users, the easiest way to browse the eLibrary is the Libby app, available free in the Google and iOS app stores.
(Libby is also available for Kindle Fire tablets. There are a few extra steps to install it.)
The Sunflower eLibrary is compatible with Kindle e-ink readers. It also works with other e-reader brands. Click here and select your device in the left column for instructions.
State Library of Kansas
The State Library of Kansas provides digital e-books and audiobooks to state residents through Digital Book eLending. Begin with a one-time registration with your Kansas Library Card, available at NPL or any public library.