Did you receive unemployment in 2020?
Unemployment benefits are taxable and must be reported on your federal tax return. A record number of Americans are applying for unemployment compensation due to the COVID-19 outbreak. If you received unemployment benefits, as well as the additional $600 per week in coronavirus relief any time during the year, your tax return may be affected.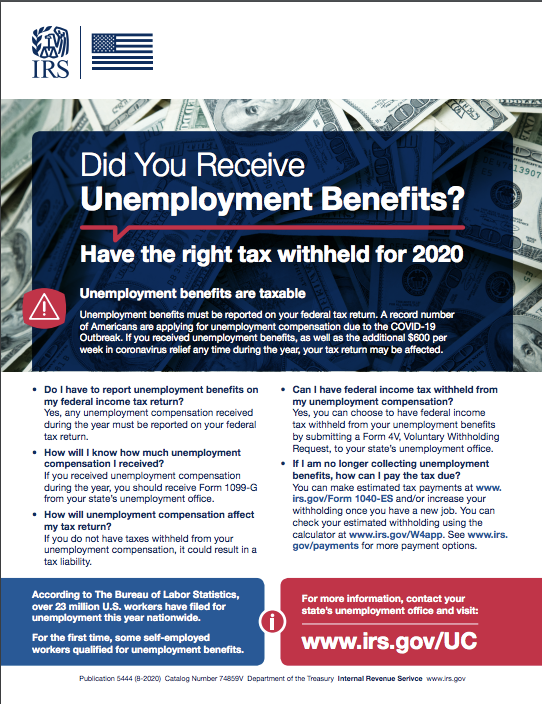 Click here for more information on unemployment benefits and tax withholding.
VITA Information
VITA information from the past tax season is posted here for your reference. Watch this space for updated information in 2021!
After being interrupted by the COVID-19 pandemic, Volunteer Income Tax Assistance (VITA) is again available at Newton Public Library.
VITA volunteers have worked out a new approach that allows them to assist lower-income taxpayers without meeting them in person.
Those seeking free VITA assistance should follow this procedure:
• Visit Newton Public Library and pick up a VITA packet at the public service desk. The packet will include detailed instructions, plus forms to fill out.
• Return the completed VITA packet to staff at the public service desk. Please note that taxpayers are required to include copies of photo ID cards for themselves and their spouses, along with Social Security or ITN cards for all family members, including children. A self-service photocopy machine is available at the library, and copies are $0.10 per page.
• Once your completed packet has been submitted, you will receive a phone call from a VITA volunteer sometime in the next few days. The volunteer will either request more information or let you know you that your tax return has been completed and can be picked up at the library.
This year's tax filing deadline is Wednesday, July 15, but to give volunteers time to assist all taxpayers, the deadline to submit a VITA packet is Monday, June 29.
Newton Public Library's hours are 9 a.m. to 6 p.m. on Mondays, Tuesdays, Wednesdays, Fridays and Saturdays; and 9 a.m. to 7 p.m. on Thursdays. Questions? Please call 316-283-2890, or email library@newtonplks.org.
Volunteer
New volunteers are always needed. Interested individuals may contact the Newton Public Library for this rewarding experience in assisting others.
Tax Forms
Library staff will assist patrons to print forms for ten cents per page.
Federal tax forms are not available in paper form at the Library. Federal tax forms are online here.
The State of Kansas no longer makes paper forms available to Libraries; the online forms are here.