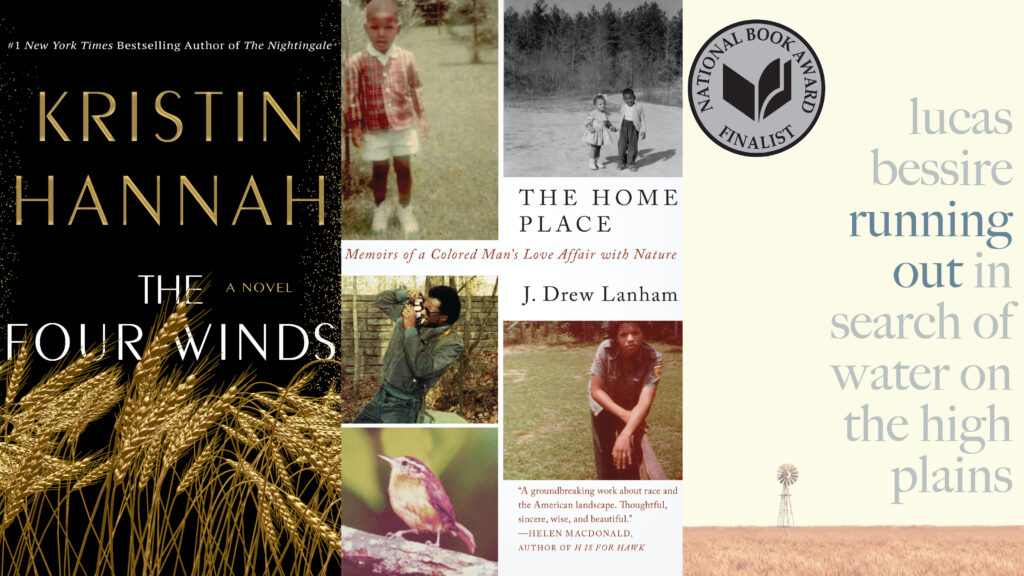 This fall, Newton Public Library presents "Family Land," a three-part TALK (Talk About Literature in Kansas) book discussion series.
The books in the series make direct connections to how people are shaped and sometimes burdened by their connections to land. They explore how the land has made us into who we are today, and how we have shaped the land in return. They tell family stories that are rooted in place, stories in which "home" is not only where we live, but a site of discovery, love, and loss for generations. Sometimes, home is in the past, a place we were not able to hold on to, or a place we had to flee.
Members of the public are invited to participate in any or all of these free discussions. Thanks to a grant from Humanities Kansas, each will be led by a special guest.
Copies of the selected books are available for borrowing. Ask at the public service desk, email library@newtonplks.org, or call 316-283-2890.
• Sept. 5, 6:30 p.m.: "The Four Winds," by Kristin Hannah. Discussion leader: Kim Stanley, chair of the Department of Modern Languages at McPherson College.
"My land tells its story if you listen. The story of our family." It's 1934, and Elsa Martinelli is in a desperate fight to save her family and their farm. A place that was once abundant has now been decimated by drought. Like others across the Great Plains, Elsa must fight to keep her children alive, but she also must ask herself, who will she be if she leaves the land she loves?
• Oct. 5, 6:30 p.m.: "The Home Place: Memoirs of a Colored Man's Love Affair with Nature," by J. Drew Lanham. Discussion leader: Carmaletta Williams, retired English and African American Studies professor, Johnson County Community College.
Growing up in Edgefield County, South Carolina, young Drew Lanham fell in love with the rich natural world around him. "There are still priceless places where nature hangs on by tooth, talon, and tendril." The Lanham "Home Place" held three worlds: his family's 1970s ranch house; his Mamatha's ramshackle, tin-roofed Depression-era Southern home; and a world of wildlife in between. Exploring this fecundity of plants and animals as he learned both his parents' pragmatic and his grandmother's oldfashioned ways, Lanham developed a keen love for the more-than-human world.
• Nov. 7, 6:30 p.m.: "Running Out: In Search of Water on the High Plains," by Lucas Bessire. Discussion leader: Tim Bascom, author, writing teacher, and director of the Kansas Book Festival
Guided by his grandmother Fern's diaries, author Lucas Bessire takes the long view as he explores the possible future of the endangered Ogallala Aquifer. The aquifer has enabled a way of life in western Kansas that defines us as a people, but its imminent depletion will soon change the environmental and cultural landscape when the water runs out. Bessire returns to his family's farm in Grant County to reconnect with his father, and together they attend groundwater management district meetings, reconnect with old friends and fellow farmers, and search for answers to the pending water crisis.