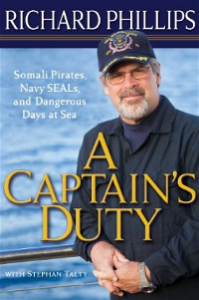 It was just another day on the job for fifty-three-year-old Richard Phillips, captain of the Maersk Alabama, the United States-flagged cargo ship that was carrying, among other things, food and agricultural materials for the World Food Program.  That all changed when armed Somali pirates boarded the ship.  The pirates didn't expect the crew to fight back, nor did they expect Captain Phillips to offer himself as hostage in exchange for the safety of his crew. 
Phillips shares details of the events leading up to his harrowing ordeal and remarkable rescue on the high seas.  As Phillips routinely prepared for his East Africa trip, little did he know he would have to put his 30 years of experience as a merchant marine into action. 
Click here to check availability.