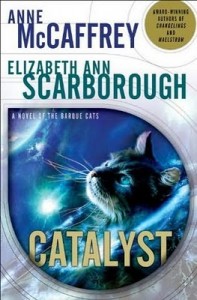 Pilot, navigator, engineer, doctor, scientist—ship's cat? All are essential to the well-staffed space vessel. Since the early days of interstellar travel, when Tuxedo Thomas, a Maine coon cat, showed what a cat could do for a ship and its crew, the so-called Barque Cats have become highly prized crew members.
Even among Barque Cats, Chessie is something special. Her pedigree, skills, and intelligence, as well as the close rapport she has with her human, Janina, make her the most valuable crew member aboard the Molly Daise. And the litter of kittens in her belly only adds to her value.
Then the unthinkable happens. Chessie is kidnapped.
Check here for availability.