By Sam Jack, sjack@newtonplks.org
If you ever find yourself hunting for sheet music, you might want to bookmark these websites featuring printable, public domain and/or free-to-use sheet music files.
BandMusic PDF Library. This site is devoted to preserving and sharing "band music from the Golden Age of the American Town Band," including works by John Philip Sousa, R.B. Hall and Henry Fillmore. The site got its start when the North Royalton (Ohio) Community Band received a donation of "boxes and boxes and boxes" of old sheet music. A volunteer agreed to scan it and create a website. Several other town bands and individuals then donated additional public-domain sheet music for scanning. Parts are ready to be printed and distributed to band members, and the collection is fully indexed and searchable.
ChoralWiki. This website specializes in choral music, especially music from the classical sacred tradition. Some contemporary composers also release their works to the site under free licenses. You can find sacred works organized by season (Advent, Christmas, Epiphany, Lent, Holy Week, etc.). The site also includes lyrics and some encyclopedia-style information.
Contemporary Music Score Collection. Composers from 86 countries have submitted more than 7,800 musical compositions for this open-access project from the UCLA Music Library. Read this article for more information.
Echoraleditions by William Kempster. These aren't quite free, but very reasonably priced for expertly-prepared performing editions of public domain choral works from the Renaissance through the present day. A complete performing edition of the works of Pierre de la Rue is included on a companion website.
Free Sacred Sheet Music. More than 4,500 sacred pieces for choir and/or soloists, from more than 250 different composers. The site was created by members of The Church of Jesus Christ of Latter-day Saints, but most of the pieces are suitable for other denominations as well. Another good source for free church music is Sally DeFord Music.
IMSLP. The International Music Score Library Project, also known as the Petrucci Music Library, is perhaps the world's largest source for public domain sheet music. The website is searchable by composer, instrumentation, difficulty and other criteria, so if you are looking for, say, easy piano solos, you can narrow the results down. The quality of the files is highly variable. Some works are clearly typeset and easily legible, while others might be museum-piece manuscripts written in the composer's own hand – fascinating for researchers but not really useable by a modern-day performer.
Mutopia Project. This collection has around 2,100 pieces of music – vastly fewer than IMSLP. What sets Mutopia apart is that volunteers have digitally re-engraved each score using free software called LilyPond. This makes the music easier to read and print, allows each piece to be played back as a MIDI file, and allows people to goin and make their own edits or corrections using the LilyPond software. Of particular note, a large collection of keyboard and string solo scores by J.S. Bach is available.
Sheet Music International. Another repository of public-domain or free-to-use sheet music. Register for a (free) account to remove watermarks.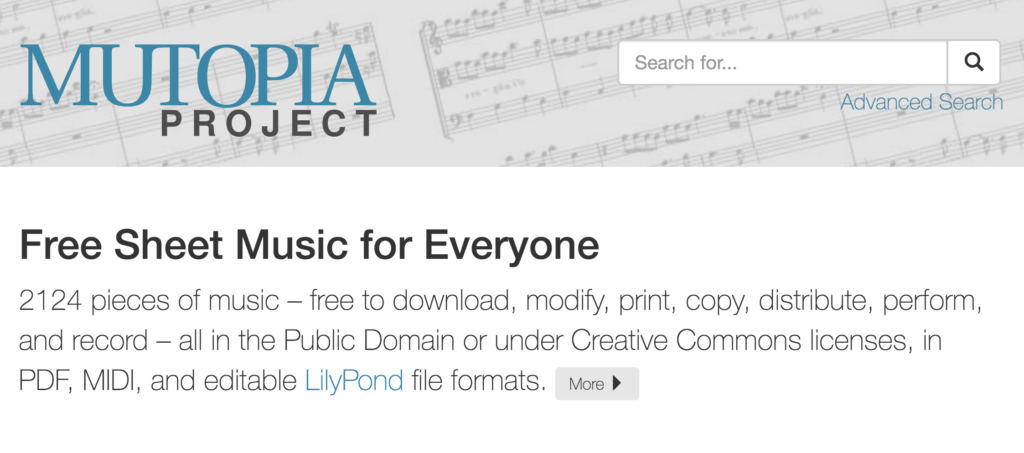 Do you know of other free and legal resources that should be added to this list? Email sjack@newtonplks.org, or send a message on Facebook.