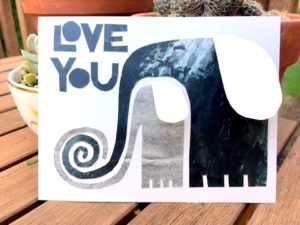 Father's Day cards one finds in the stores are pretty abysmal, in my opinion.
With Papercrafts & Coloring coming up (second Tuesday of each month at 6:30 p.m.), I decided I'd look for something I wanted to give my dad for Father's Day. I turned to Pinterest and found a pretty sweet image of a big elephant sheltering a small elephant. The photo was no longer linked to anything, so I decided to make my own pattern. Here's the elephant template I made (not cleaned up, but it worked for me – click the template link, then click the image to enlarge it to full size). The great thing about this design is it would work as a card for anything that has to do with big people loving little people, and vice versa. If framed, I could see this on a child's wall, too.
I found an awesome book, headed for the recycle bin due to condition, to repurpose into my Father's Day card. It was about the moon and planets, with illustrations mostly in black and white. The back sides of plate pages were blank, which helped give the elephant "ears" definition. I wrote my sentiments to my dad under the ear flaps of the elephants. I cut out letters, also from the book pages, with the sentiment I wanted: "Love You." I knew the letters didn't have to be perfect for this design.
The back side of my card just happened to also fit my Father's Day card purpose so exactly, I was almost giddy. An illustration of the moon! So I could finish off my Father's Day sentiment perfectly!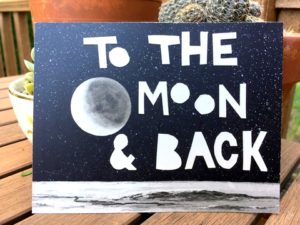 –Susan