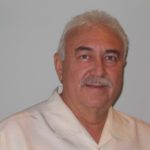 Gene Chávez to lead book discussion
Gene Chávez, founder and president of Chávez and Associates in Kansas City, will lead a discussion of Bless Me, Ultima by Rudolfo Anaya, at 7 p.m. on September 20.
This is the second book in a three-part "Faith in Fiction: Christianity" series. Bless Me Ultima tells the tale of Ultima, a traditional healer, who comes to live with young Antonio's family in New Mexico. Antonio's strong Catholic faith is tested by his discovery of pagan traditions at once benign and powerful.
The Talk About Literature in Kansas (TALK) book discussion series is provided by the Kansas Humanities Council (KHC), a nonprofit cultural organization with over 35 years of experience promoting understanding of the history and ideas that shape our lives and build community.
To check out books and for more information about the reading series, contact the Library.