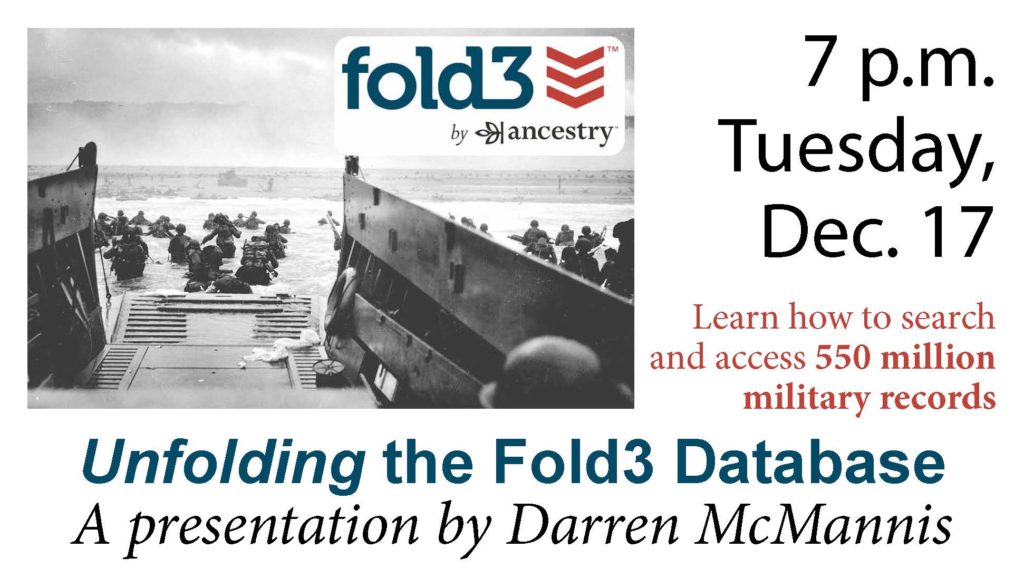 From Sam Jack, sjack@newtonplks.org
Last month, genealogist and local history researcher Darren McMannis gave an engaging program about travel accidents in Harvey County, "Roadside Crosses". This evening at 7 p.m., Darren will be back to present "Unfolding the Fold3 Database."
Available free to all Kansas residents, Fold3 is an online database of more than 600 million military records and related documents, from the Revolutionary War to the present day.
Fold3's simple, powerful search engine allows users to search for records based on names, dates, places, conflict periods, document types and more.
In addition to archival records, Fold3 has a variety of features that help memorialize veterans. Users can create permanent webpages about their ancestors or family members, which are added to a digital "Honor Wall."
Fold3 also features an interactive digital replica of the Vietnam Veterans Memorial wall: 6,301 photos stitched together to form a single, 5 gigapixel image.
Darren is the author of several books about Harvey County history, all of which are now circulating at NPL! He is active in the Harvey County Genealogical Society and maintains the society's website, www.hcgsks.org.
Hope to see you at the library tonight at 7 p.m. Thanks!
-Sam