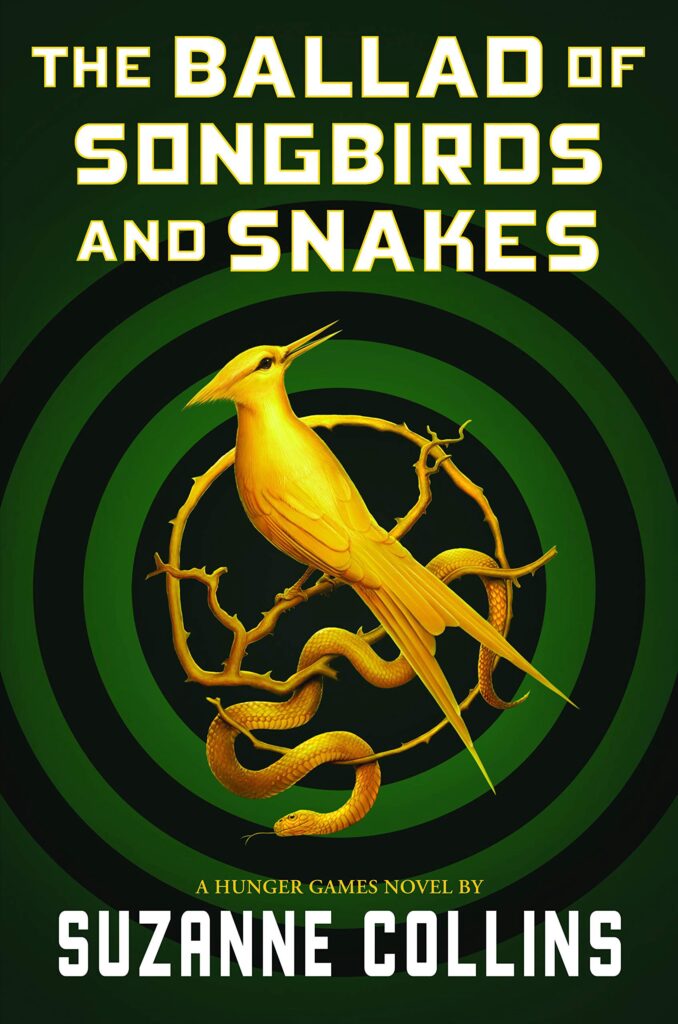 By Sam Jack, sjack@newtonplks.org
The Hunger Games and its sequels, Catching Fire and Mockingjay, were Nos. 1, 2 and 5 on Newton Public Library's countdown of the top young adult fiction of the 2010s. The first book in the series was also the second-most-circulated book overall, behind only the first volume in the Harry Potter series. The Hunger Games series is wildly popular with adults and teens alike.
A decade after the original trilogy concluded with the release of Mockingjay, author Suzanne Collins has released a prequel novel, The Ballad of Songbirds and Snakes. It's set during the teenage years of Coriolanus Snow – the boy who would later become the evil ruler of Panem, President Snow.
Here's how the publisher describes the new novel:
It is the morning of the reaping that will kick off the tenth annual Hunger Games. In the Capitol, eighteen-year-old Coriolanus Snow is preparing for his one shot at glory as a mentor in the Games. The once-mighty house of Snow has fallen on hard times, its fate hanging on the slender chance that Coriolanus will be able to outcharm, outwit, and outmaneuver his fellow students to mentor the winning tribute.

The odds are against him. He's been given the humiliating assignment of mentoring the female tribute from District 12, the lowest of the low. Their fates are now completely intertwined — every choice Coriolanus makes could lead to favor or failure, triumph or ruin. Inside the arena, it will be a fight to the death. Outside the arena, Coriolanus starts to feel for his doomed tribute . . . and must weigh his need to follow the rules against his desire to survive no matter what it takes.
Newton Public Library has Ballad on order, and you will soon be able to place a hold on the physical book via our online catalog. Or, you can email library@newtonplks.org, or call 316-283-2890, and a staff member can place a hold for you right away.
Can't wait to start experiencing this new story? The audiobook version, narrated by Santino Fontana, is available on-demand on Hoopla. Use your NPL card to set up a Hoopla account and borrow it for free. You can also join the wait list and borrow the ebook or audiobook on Sunflower eLibrary. If you need help with digital borrowing, please email library@newtonplks.org, or give us a call at 316-283-2890 during staff hours.
If you haven't read the original trilogy, you can start with the ebook or audiobook of The Hunger Games, or borrow one of the library's copies with no-contact pickup.