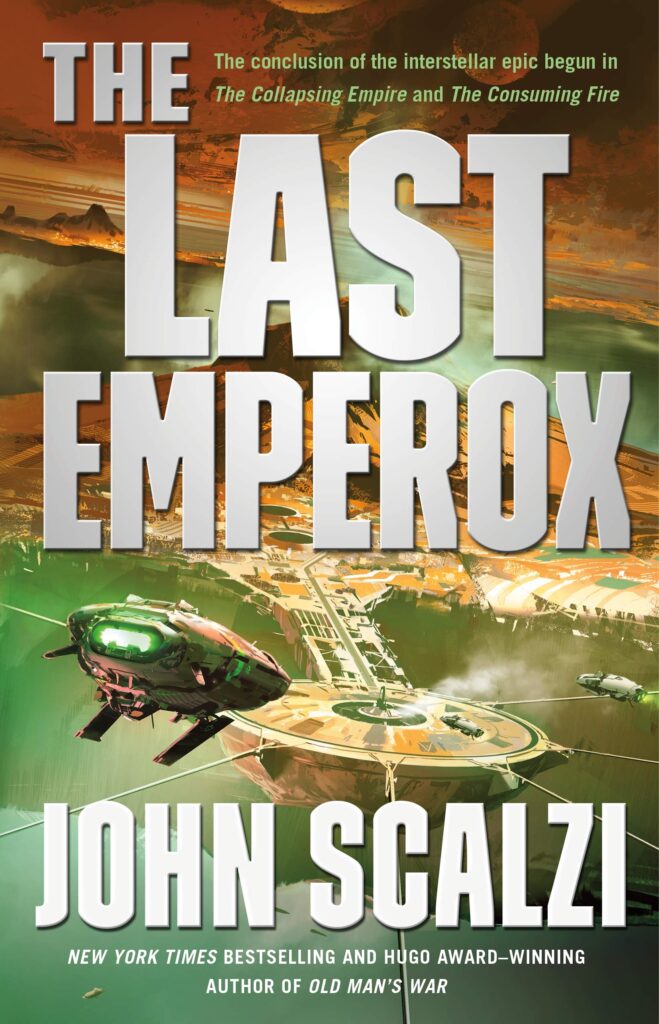 By Sam Jack, sjack@newtonplks.org
The Last Emperox is a light, quick read, and it provided easy distraction, which I was looking for in the time of COVID-19. But it was in fact so light that none of the characters or situations felt at all real or weighty.
Briefly, the situation in The Last Emperox, and the "Collapsing Empire" trilogy Emperox that caps, is this: Humanity is spread out across hundreds of star systems, linked by a naturally-occurring network of wormholes called the Flow. When the Flow starts to inexplicably collapse, the ruling class realizes that no single star system has what it needs to survive in permanent isolation. That realization sets off a desperate scramble as everyone maneuvers to survive the impending collapse of civilization.
It's an effective setup, and it has quite a bit of contemporary resonance. But the story author John Scalzi tells never fulfills the potential inherent in the scenario.
Scalzi's voice as authorial string-puller comes through more strongly than the voice or perspective of any of the characters. At times I felt like I was reading a plot synopsis from a wiki about the House of Cards/Game of Thrones-style TV series these books clearly want to be.
I do appreciate the way a plot twist is handled late in the book: flatly, and without heavy-handed foreshadowing. On the other hand, the book and the trilogy ends on what is basically a deus ex machina, and that feels a bit lazy.
I don't dislike the jocular Scalzi style that becomes more and more prominent across the three books of the "Collapsing Empire" series. I just wish he would think of some different keys and registers to deploy within that style.
For example, the rebellious noblewoman Kiva Lagos is a fun character, but her reliance on foul language (especially the F-word) gets monotonous. Not that I mind if fictional characters swear from time to time, but this instance just feels like lazy writing: One note on the keyboard banged again and again, telling rather than showing us that Kiva is an irreverent rule-breaker. With an arched eyebrow, Scalzi himself mocks this weakness in Kiva's characterization, but that doesn't make the problem go away.
In his acknowledgments, Scalzi admits to "waiting until the very last moment to turn the damn thing in," which confirmed my impression that the writing of this book was rushed. Perhaps Scalzi is feeling the pressure that comes from signing a $3.4 million deal that requires him to write 13 books in 10 years. Maybe after the deal has run its course, he can go back to selling one book at a time, and be a bit more generous with himself about deadlines.
While this book, and by extension the trilogy, is no masterpiece, it still might be worth picking up if you're looking for a fast-paced, slightly goofy adventure/sci-fi read.
However, if you've never read any Scalzi, I would suggest starting with the equally fun, but more carefully written and plotted, Old Man's War series. Redshirts is another good option, especially if you're a Star Trek fan or have a soft spot for humorous novels.
You can borrow the ebook of The Collapsing Empire (the first book in the series of the same name) on Cloud Library with a State Library of Kansas eCard. Don't have an eCard? Call 316-283-2890 or email library@newtonplks.org and we can issue one remotely. They're free for any Kansas resident.