"Space: the final frontier…"
Those words have opened countless Star Trek episodes. The idea of a "final frontier," full of limitless possibilities, is key to the appeal of science fiction. This month, teen librarian Sharon Cepeda is highlighting some young adult (YA) novels about exploring, or living in, space. Don't forget to pack your Tang!
Click on a link to go directly to a book's page in NPL's online catalog, where you can learn more and place the book on hold for convenient pickup! You can also request books in person, by calling 316-283-2890, or by emailing library@newtonplks.org.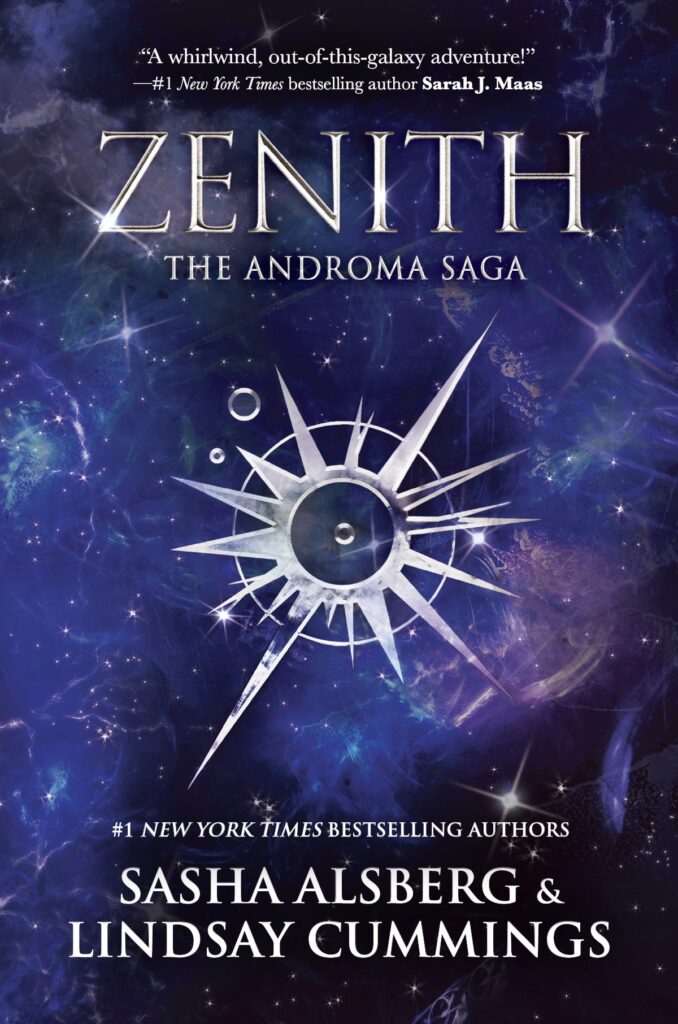 Alsberg, Sasha and Lindsay Cummings. Zenith. The all-girl crew of the starship Marauder is tested by a bounty hunter from their powerful mercenary leader's past. Across the galaxy, a ruthless tyrant waits in the shadows to exact revenge for the destruction of her people.
Belleza, Rhoda. Empress of a Thousand Skies. Two fugitives, a princess-in-exile and her accused killer, cross the galaxy as they fight to reclaim her family dynasty and save the universe from a deadly threat.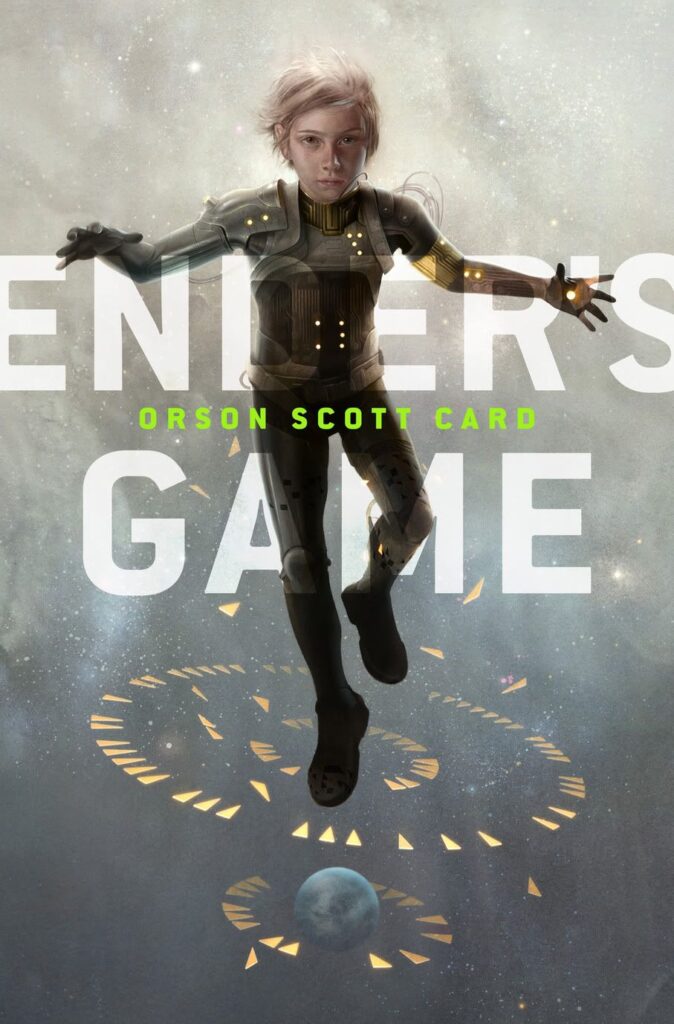 Card, Orson Scott. Ender's Game. In order to develop a secure defense against a hostile alien race's next attack, government agencies breed child geniuses and train them as soldiers. A brilliant young boy, Andrew "Ender" Wiggin lives with his kind but distant parents, his sadistic brother Peter, and the person he loves more than anyone else, his sister Valentine. Peter and Valentine were candidates for the soldier-training program but didn't make the cut—young Ender is the Wiggin drafted to the orbiting Battle School for rigorous military training.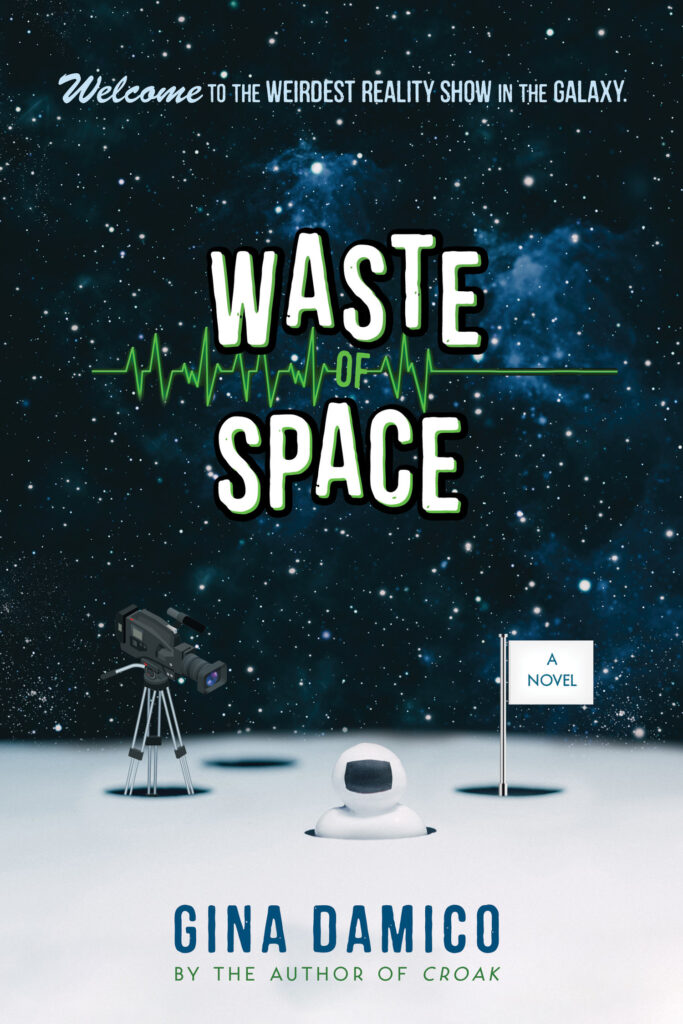 Damico, Gina. Waste of Space. Cram ten hormonal teens into a spaceship and blast off: that's the premise for the ill-conceived reality show Waste of Space. The kids who are cast know everything about drama, and nothing about the fact that the production is fake. Hidden in a desert warehouse, their spaceship replica is equipped with state-of-the-art special effects dreamed up by the scientists partnering with the shady cable network airing the show. And it's a hit! Millions of viewers are transfixed. But then, suddenly, all communication is severed. Trapped and paranoid, the kids must figure out what to do when this reality show loses its grip on reality.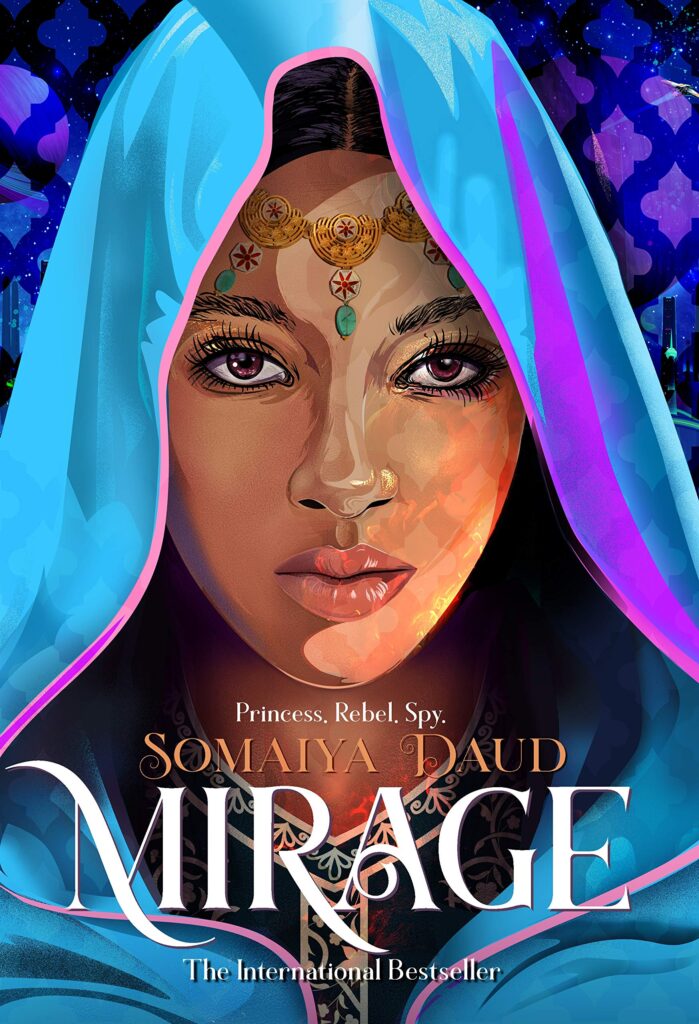 Daud, Somaiya. Mirage. In a world dominated by the brutal Vathek empire, eighteen-year-old Amani is a dreamer. She dreams of what life was like before the occupation; she dreams of writing poetry like the old-world poems she adores; she dreams of receiving a sign from Dihya that one day, she, too, will have adventure, and travel beyond her isolated home. But when adventure comes for Amani, it is not what she expects: she is kidnapped by the regime and taken in secret to the royal palace, where she discovers that she is nearly identical to the cruel half-Vathek Princess Maram. The princess is so hated by her conquered people that she requires a body double, someone to appear in public as Maram, ready to die in her place.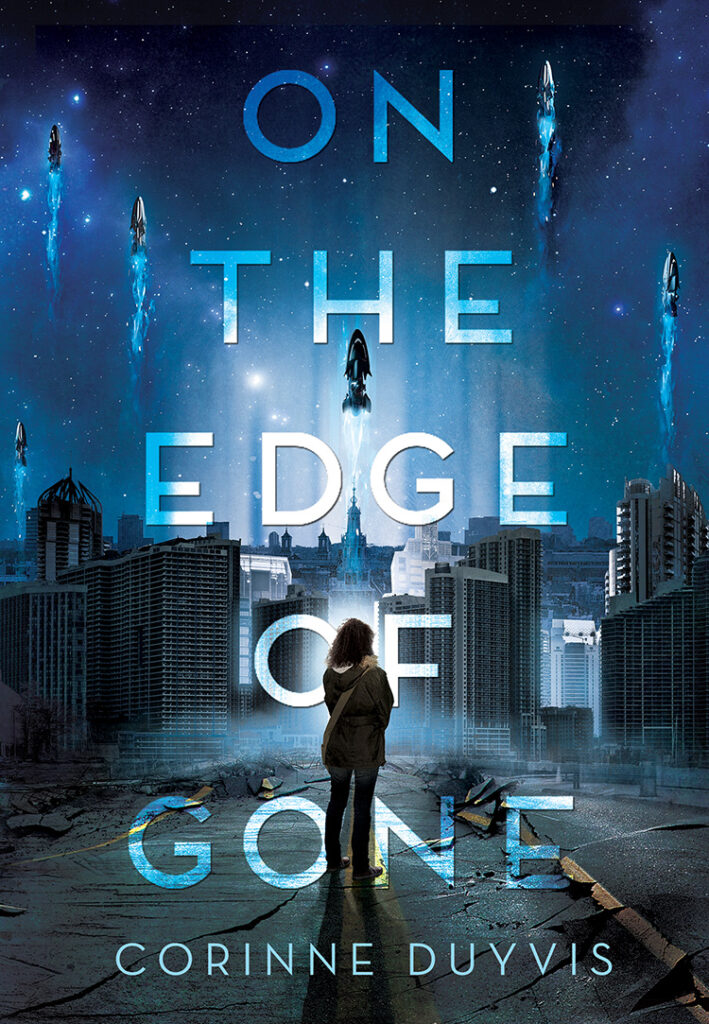 Duyvis, Corinne. On the Edge of Gone. January 29, 2035. That's the day the comet is scheduled to hit – the big one. Denise and her mother and sister, Iris, have been assigned to a temporary shelter outside their hometown of Amsterdam to wait out the blast, but Iris is nowhere to be found, and at the rate Denise's drug-addicted mother is going, they'll never reach the shelter in time. A last-minute meeting leads them to something better than a temporary shelter: a generation ship, scheduled to leave Earth behind to colonize new worlds after the comet hits. But everyone on the ship has been chosen because of their usefulness. Denise is autistic and fears that she'll never be allowed to stay. Can she obtain a spot before the ship takes flight? What about her mother and sister? When the future of the human race is at stake, whose lives matter most?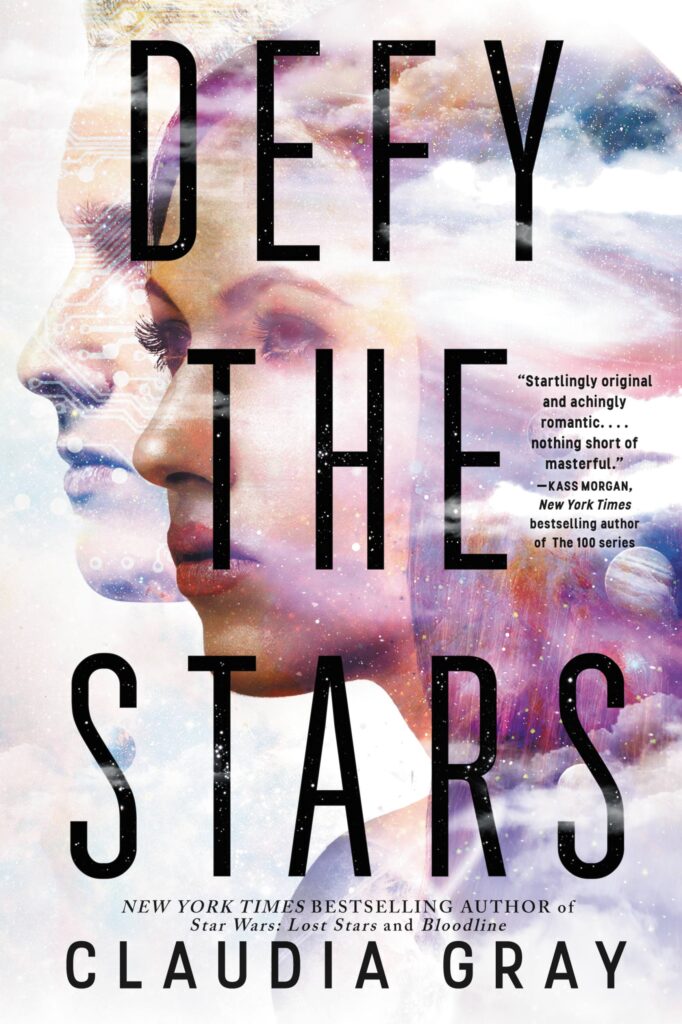 Gray, Claudia. Defy the Stars. She's a soldier–Noemi Vidal is willing to risk anything to protect her planet, Genesis, including her own life. To their enemies on Earth, she's a rebel. He's a machine–Abandoned in space for years, utterly alone, Abel's advanced programming has begun to evolve. He wants only to protect his creator, and to be free. To the people of Genesis, he's an abomination. Noemi and Abel are enemies in an interstellar war, forced by chance to work together as they embark on a daring journey through the stars. Their efforts would end the fighting for good, but they're not without sacrifice. The stakes are even higher than either of them first realized, and the more time they spend together, the more they're forced to question everything they'd been taught was true.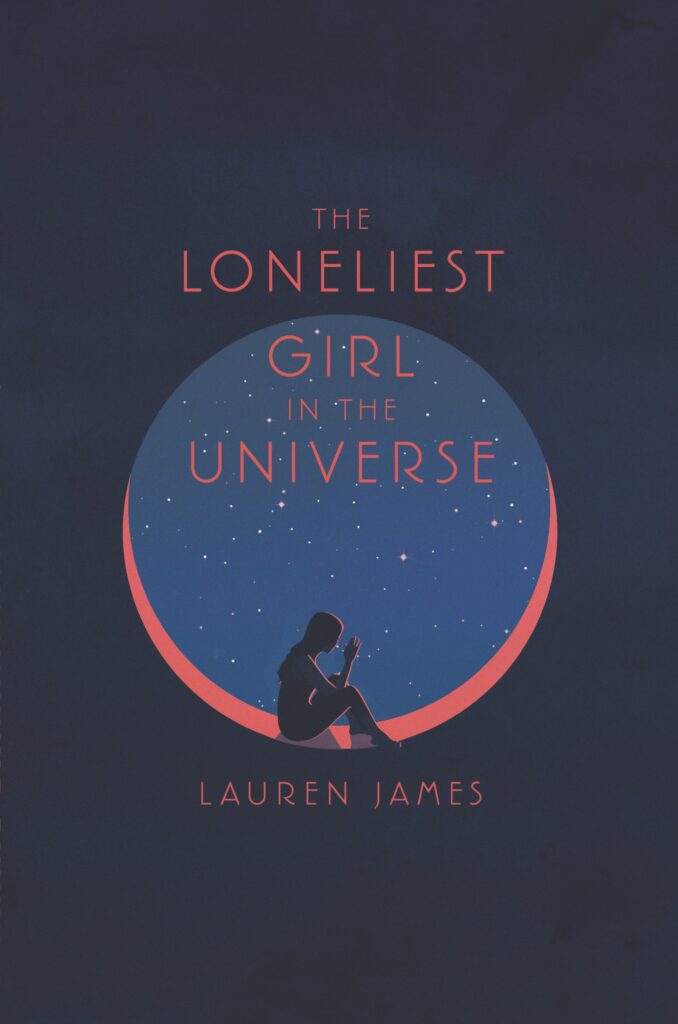 James, Lauren. The Loneliest Girl in the Universe. The daughter of two astronauts, Romy Silvers is no stranger to life in space. But she never knew how isolating the universe could be until her parents' tragic deaths left her alone on the Infinity, a spaceship speeding away from Earth. Romy tries to make the best of her lonely situation, but with only brief messages from her therapist on Earth to keep her company, she can't help but feel like something is missing. It seems like a dream come true when NASA alerts her that another ship, the Eternity, will be joining the Infinity. Romy begins exchanging messages with J, the captain of the Eternity, and their friendship breathes new life into her world. But as the Eternity gets closer, Romy learns there's more to J's mission than she could have imagined. And suddenly, there are worse things than being alone.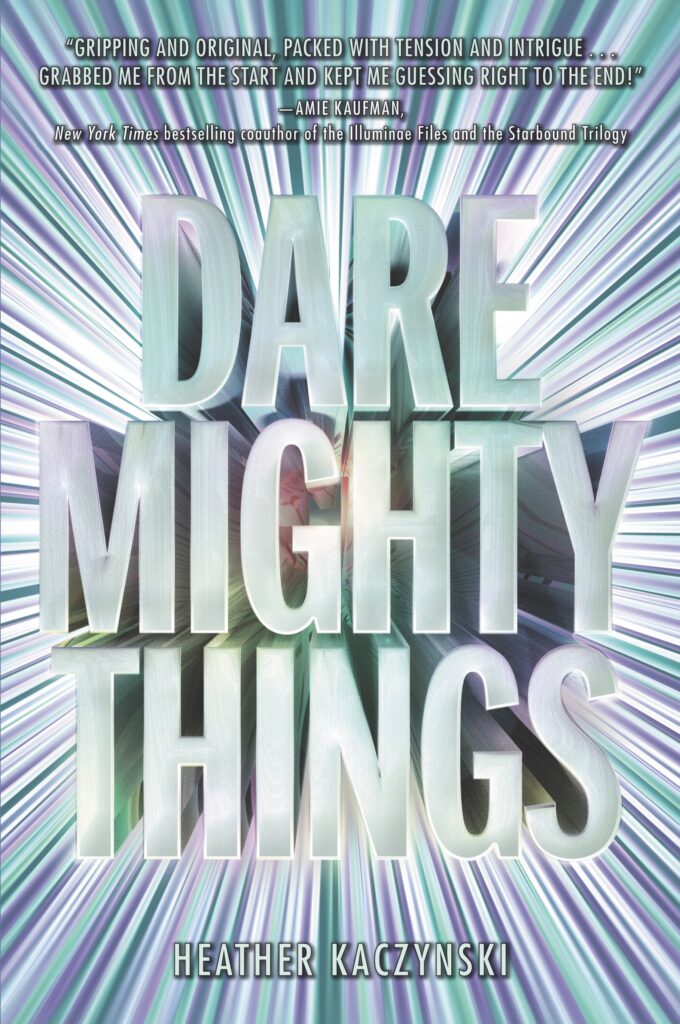 Kaczynski, Heather. Dare Mighty Things. The rules are simple: You must be gifted. You must be younger than twenty-five. You must be willing to accept the dangers that you will face if you win. Seventeen-year-old Cassandra Gupta's entire life has been leading up to this — the opportunity to travel to space. But to secure a spot on this classified mission, she must first compete against the best and brightest people on the planet. People who are as determined as she to win a place on a journey to the farthest reaches of the universe. Cassie is ready for the toll that the competition will take; the rigorous mental and physical tests designed to push her to the brink of her endurance. But nothing could have prepared her for the bonds she would form with the very people she hopes to beat. Or that with each passing day it would be more and more difficult to ignore the feeling that the true objective of the mission is being kept from her. As the days until the launch tick down and the stakes rise higher than ever before, only one thing is clear to Cassie: she'll never back down… even if it costs her everything.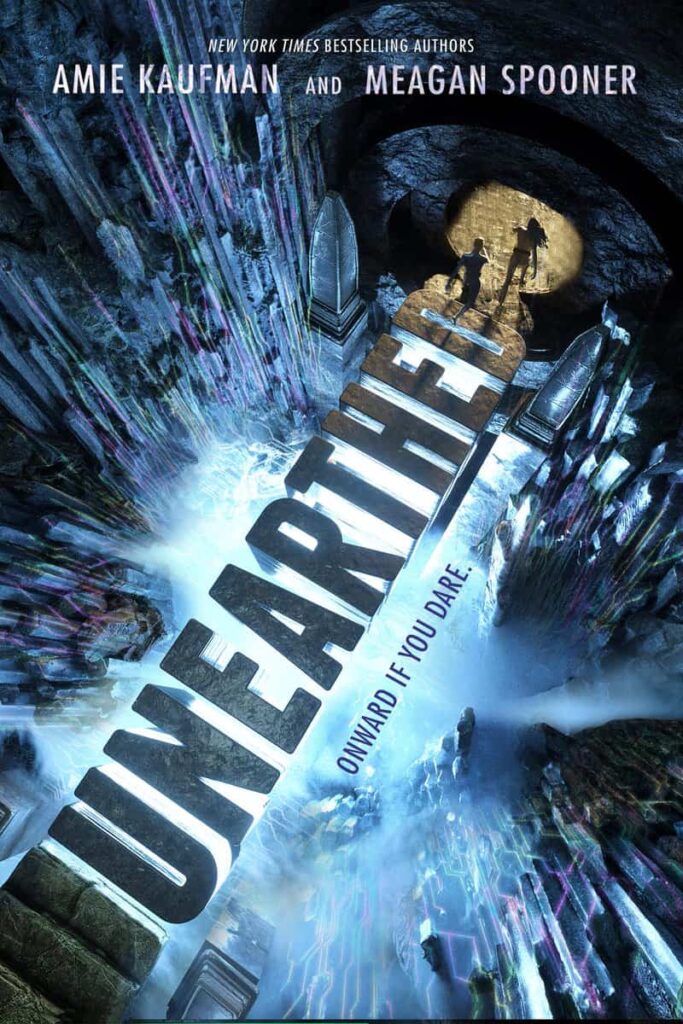 Kaufman, Amie. Unearthed. When Earth intercepts a message from a long-extinct alien race, it seems like the solution humanity has been waiting for. The Undying's advanced technology has the potential to undo environmental damage and turn lives around, and their message leads to the planet Gaia, a treasure trove waiting to be explored. For Jules Addison and his fellow scholars, the discovery of an ancient alien culture offers unprecedented opportunity for study . . . as long as scavengers like Amelia Radcliffe don't loot everything first. Despite their opposing reasons for smuggling themselves onto the alien planet's surface, they're both desperate to uncover the riches hidden in the Undying temples. Beset by rival scavenger gangs, Jules and Mia form a fragile alliance . . . but both are keeping secrets that make trust nearly impossible.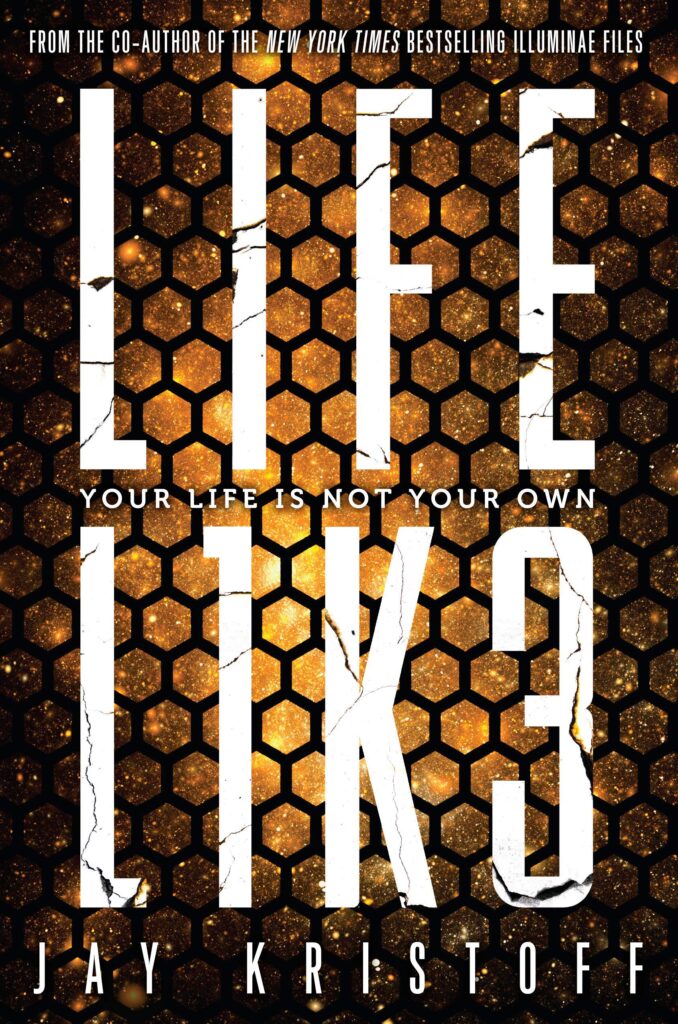 Kristoff, Jay. LIFEL1K3. On an island junkyard beneath a sky that glows with radiation, a deadly secret lies buried in the scrap. Seventeen-year-old Eve isn't looking for trouble–she's too busy looking over her shoulder. The robot gladiator she spent months building has been reduced to a smoking wreck, she's on the local gangster's wanted list, and the only thing keeping her grandpa alive is the money she just lost to the bookies. Worst of all, she's discovered she can somehow destroy machines with the power of her mind, and a bunch of puritanical fanatics are building a coffin her size because of it. If she's ever had a worse day, Eve can't remember it. The problem is, Eve has had a worse day–one that lingers in her nightmares and the cybernetic implant where her memories used to be. Her discovery of a handsome android named Ezekiel–called a "Lifelike" because they resemble humans–will bring her world crashing down and make her question whether her entire life is a lie. With her best friend Lemon Fresh and her robotic sidekick Cricket in tow, Eve will trek across deserts of glass, battle unkillable bots, and infiltrate towering megacities to save the ones she loves…and learn the truth about the bloody secrets of her past.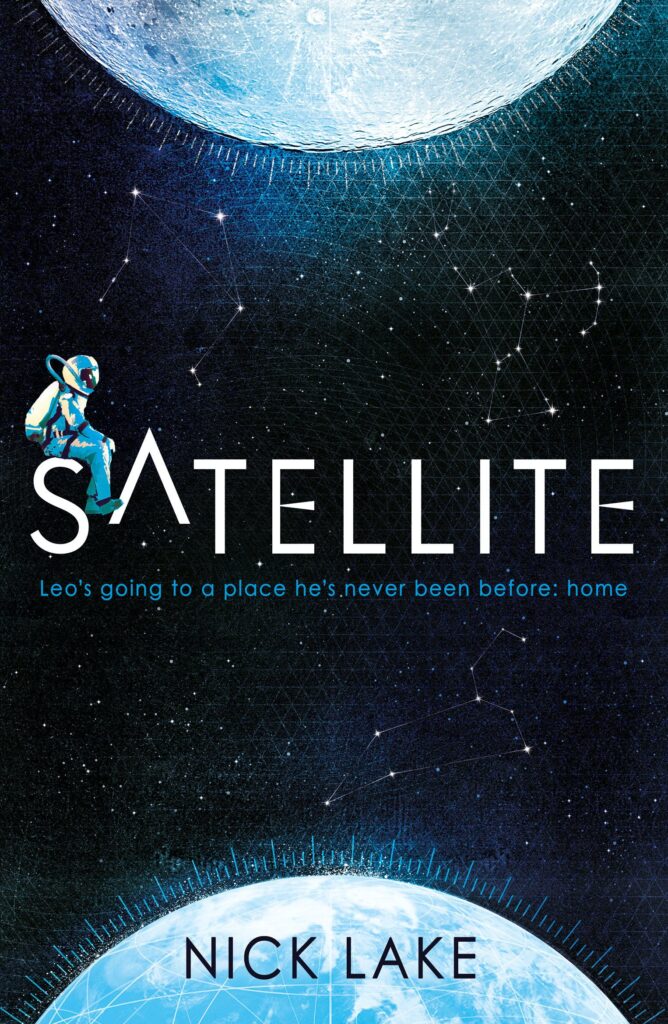 Lake, Nick. Satellite. Moon 2 is a space station that orbits approximately 250 miles above Earth. It travels 17,500 miles an hour, making one full orbit every 90 minutes. It's also the only home that 15-year-old Leo and two other teens have ever known. Born and raised on the space station, Leo and the twins, Orion and Libra, are finally old enough and strong enough to endure the dangerous trip to Earth. But has anyone really prepared them for life on terra firma? While they planet may be home to billions, living there is more treacherous than Leo and his friends could ever have imagined.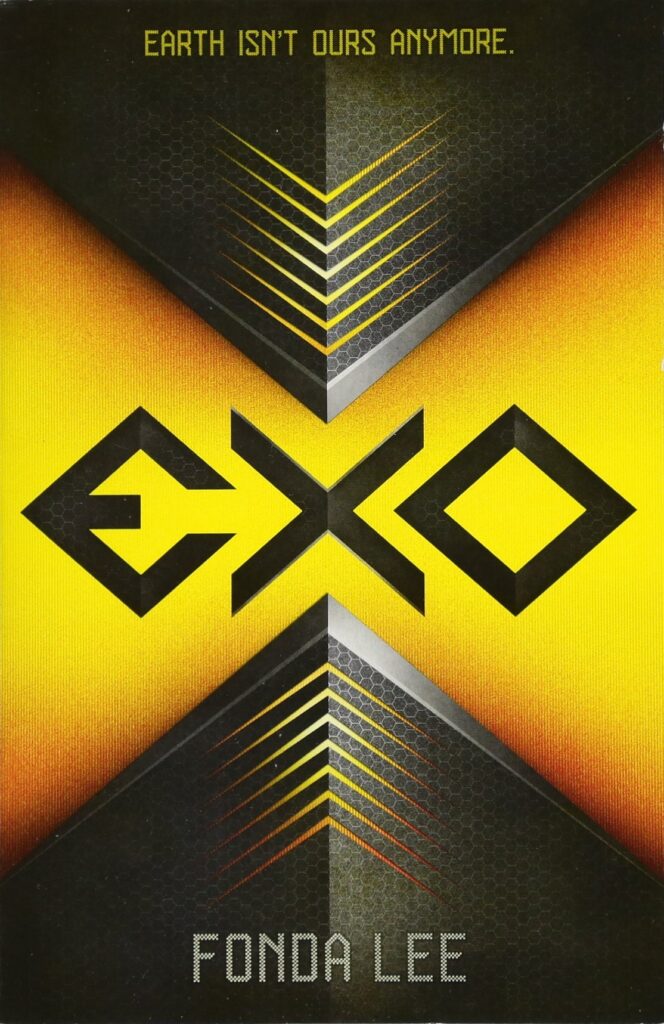 Lee, Fonda. Exo. It's been a century of peace since Earth became a colony of an alien race with far reaches into the galaxy. Some die-hard extremists still oppose their rule on Earth, but Donovan Reyes isn't one of them. His dad holds the prestigious position of Prime Liaison in the collaborationist government, and Donovan's high social standing along with his exocel (a remarkable alien technology fused to his body) guarantee him a bright future in the security forces. That is, until a routine patrol goes awry and Donovan's abducted by the human revolutionary group Sapience.When Sapience realizes who Donovan's father is, they think they've found the ultimate bargaining chip. But the Prime Liaison doesn't negotiate with terrorists, not even for his own son. Left in the hands of terrorists who have more uses for him dead than alive, the fate of Earth rests on Donovan's survival. Because if Sapience kills him, it could spark another intergalactic war. And Earth didn't win the last one.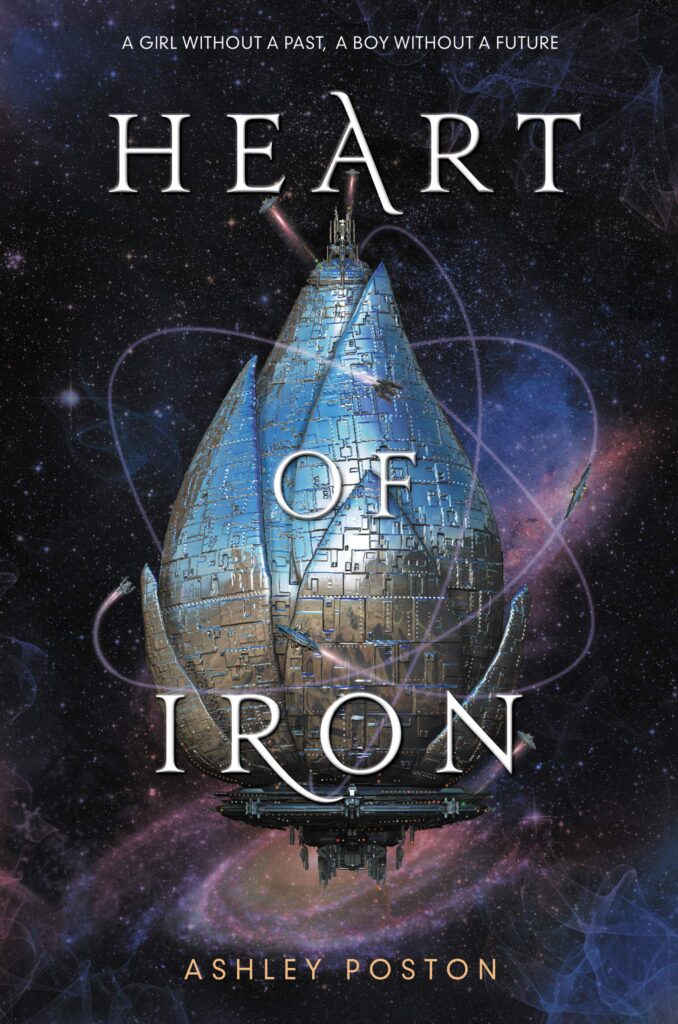 Poston, Ashley. Heart of Iron. Seventeen-year-old Ana is a scoundrel by nurture and an outlaw by nature. Found as a child drifting through space with a sentient android called D09, Ana was saved by a fearsome space captain and the grizzled crew she now calls family. But D09 — one ofthe last remaining illegal Metals — has been glitching, and Ana will stop at nothing to find a way to fix him. Ana's desperate effort to save D09 leads her on a quest to steal the coordinates to a lost ship that could offer all the answers. But at the last moment, a spoiled Ironblood boy beats Ana to her prize. He has his own reasons for taking the coordinates, and he doesn't care what he'll sacrifice to keep them. When everything goes wrong, she and the Ironblood end up as fugitives on the run. Now their entire kingdom is after them — and the coordinates — and not everyone wants them captured alive. What they find in a lost corner of the universe will change all their lives — and unearth dangerous secrets. But when a darkness from Ana's past returns, she must face an impossible choice: does she protect a kingdom that wants her dead or save the Metal boy she loves?