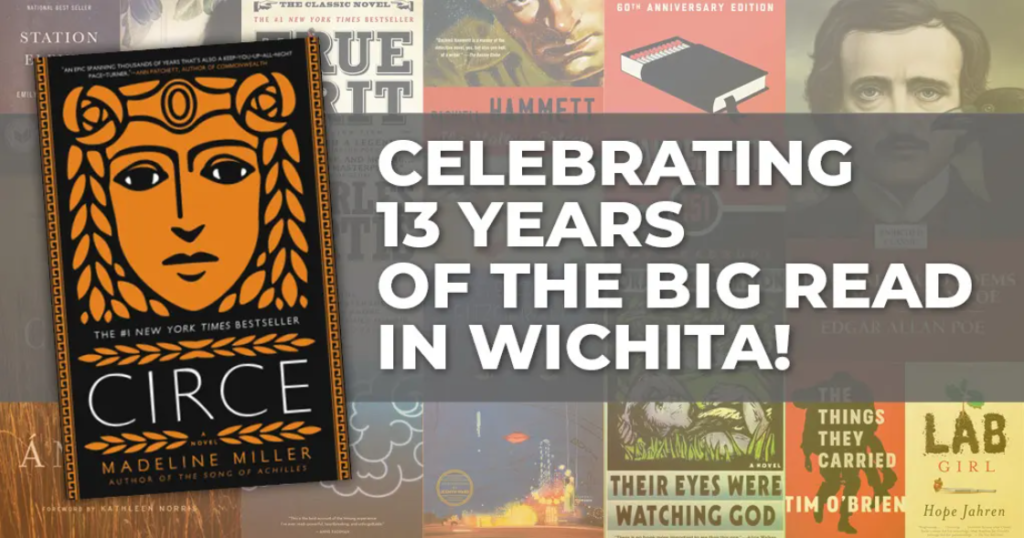 Newton Public Library is proud to be participating in NEA Big Read: Wichita!
From Jan. 9 to Feb. 21, the world of Madeline Miller's Circe will come to life through book discussions, special programs, and performances based on the book's characters, settings and themes.
NPL will host two related book discussions, plus a special Greek mythology event for kids, teens and families – all online, free, and open to the public.
Read on to learn how you can be part of the Big Read!
1. Read the Book
Eighteen copies of Circe are currently circulating at NPL. Just ask a Library staff member to check one out to you, or click here to put a copy on hold for convenient pickup.
Multiple copies of the e-book and e-audiobook are also available with your library card via Sunflower eLibrary. If you need help getting started with e-borrowing, please call 316-283-2890, or stop in and ask a staff member.
Here's a bit more about this year's Big Read selection:
Madeline Miller's bestselling novel Circe is this year's NEA Big Read: Wichita selection. This novel, about the lesser-known goddess Circe, takes you on a spellbinding journey into the world of gods, monsters, mortals and nymphs. Circe is a strange child — not powerful, like her father Helios, nor alluring like her mother Perse, and often ridiculed by her beautiful and charismatic siblings. Most authors, like Homer and Ovid, depict Circe as weak or evil and lacking nuance, but Miller reimagines her as a complex, "'passionately empathetic and strong-willed woman' determined to find her own path and evolve" (Girls' Night In). Turning to the world of mortals for companionship, she discovers that she does possess power — the power of potions and spells, which can transform rivals into monsters and menace the gods themselves.

– Big Read Wichita
2. Join NPL's Online Events
Newton Public Library is hosting three online events that tie in with this year's Big Read! All are free and open to the public.
Mythology & Me: 7 p.m. Thursday, Jan. 14. Rick Riordan's Percy Jackson & the Olympians series has popularized Greek mythology for a new generation of curious readers. Kids, teens, AND adults are invited to join NPL youth volunteer Hazel to get their Greek mythology questions answered: Who wrote the myths? Where did ancient Greeks worship? What is the difference between Greek, Roman and Norse myths?
Hazel will interview Jamie Banks, an expert on classical Greek and Latin literature and a Ph.D. student at the City University of New York. Other participants will also be welcome to ask questions and interact!
Click here for instant registration via Zoom. Click here to RSVP on Facebook. Have questions, or need technical assistance? Call 316-283-2890, email library@newtonplks.org, or stop by during Library hours.
Teen/Tween Book Discussion: 10 a.m. Saturday, Jan. 16. Teens and tweens are invited to read The Lightning Thief, by Rick Riordan, then join an online discussion via Zoom. Contact the Library to sign up, borrow a copy of the book, and get the Zoom link. Participants, you can also borrow nonfiction books about Greek myths to enrich your reading experience!
Third Thursday Book Discussion – Big Read Edition! 7 p.m. Thursday, Jan. 21. Join NPL adult services librarian Dan Eells for a community Big Read discussion of Madeline Miller's Circe.
Copies of the book are available at NPL. The discussion will be held via Zoom. Use this link to join the Zoom meeting room on the 21st. To RSVP and share the event on Facebook, click here. Have questions or need technical assistance? Please contact the Library, and we will be happy to help!
3. Explore everything else Big Read has to offer!
From small-loom weaving to digital escape rooms, from Greek poetry to Greek science, go to www.BigReadWichita.org for a full listing of all Big Read events. Most events are being held online and are easy to join from anywhere.
P.S. Would you like a free copy of Circe to keep? Tune into KPTS Channel 8 on Saturday, Jan. 9, at 2:30 p.m. for the Big Read's virtual kickoff! Viewers will learn the secret spot where they can pick up a free copy later that evening, from 5 to 7 p.m. (Note that the secret location will probably be in Wichita, not Newton.)