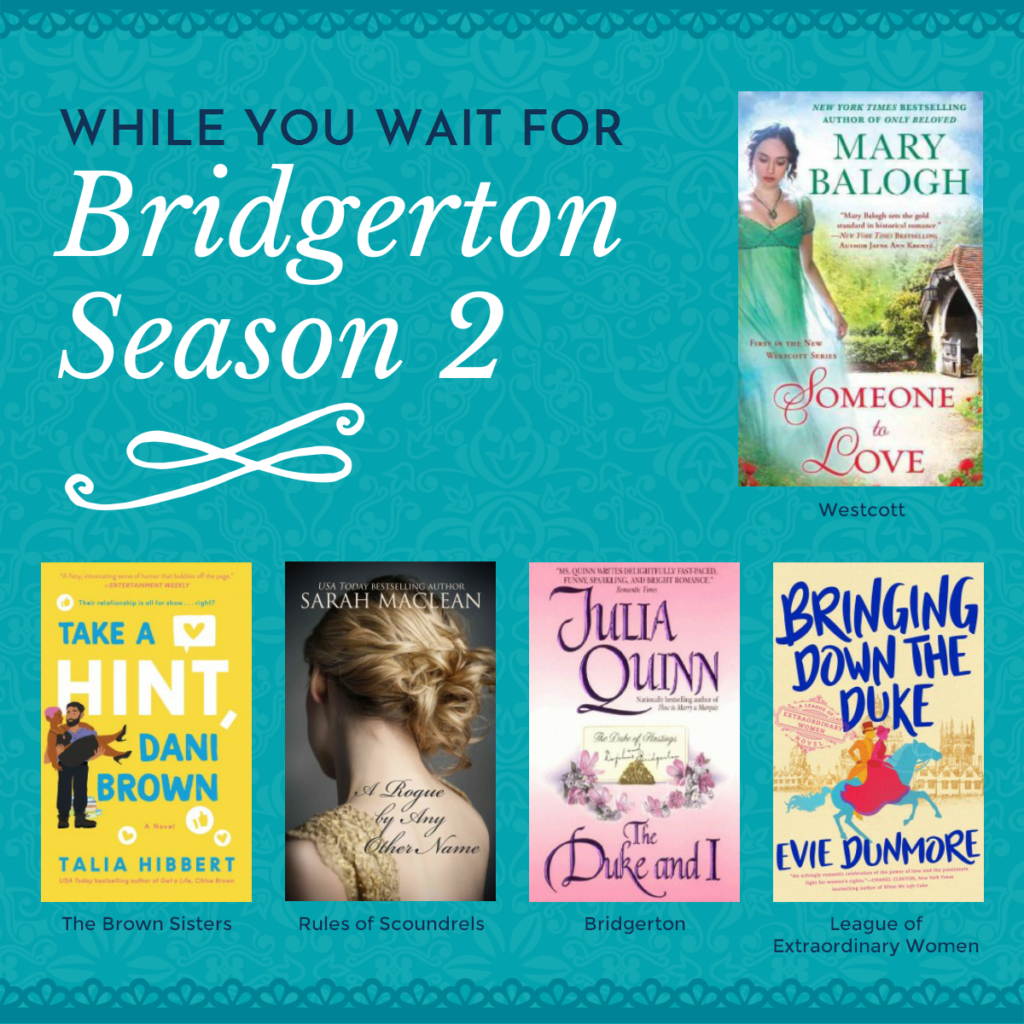 By Sam Jack, sjack@newtonplks.org
Dearest Readers,
Millions of Netflix viewers have been beguiled by the noble Bridgerton family, the upstart Featheringtons, the rakish Duke Simon, and the poison-penned Lady Whistledown. Netflix has confirmed that a second season of "Bridgerton" is in the works. While you wait, try these romance novels that are bound to appeal to any devoted Bridgertonian!
Reading any of these books will fulfill February's featured reading challenge, "Read a Romance Novel." Each of these books is the start of a series.
•
What it's about: Arriving in London to claim an unexpected inheritance from the late Earl of Riverdale, orphan Anna Snow turns to the new earl's guardian, the Duke of Netherby, for help in transforming herself into a lady and navigating the very society that threatens to overwhelm her.
What's in it for Bridgerton fans: This novel features banter-filled dialogue and a secret alliance with a duke.
•
What it's about: A young woman agrees to fake-date her friend after a video of him "rescuing" her from their office building goes viral.
What's in it for Bridgerton fans: A fake relationship turns into a real romance. Unlike Bridgerton, this romance is set in the present day, but like the TV show, it features a diverse cast of characters.
•
What it's about: Michael Lawler, Marquess of Bourne, loses his fortune on a bad bet and opens London's most notorious gambling hall in hopes of buying back his family estate. But he can regain it even more quickly if he marries his childhood friend Lady Penelope, the daughter of his estate's current owner.
What's in it for Bridgerton fans: Like the TV show, this Regency romance features gambling and its unpredictable consequences. Lady Penelope experiences the strain of lingering too long on the "marriage market," risking spinsterhood.
•
What it's about: In an effort to keep himself footloose and single in spite of the efforts of the town's matchmakers, Simon Basset, Duke of Hastings, begins a sham courtship with Daphne Bridgerton.
What's in it for Bridgerton fans: The TV show is based on this book! The show introduces a multi-racial alternative history version of London high society that is not present in the novels. The Duke and I is first in a nine-book series that follows the courtships of the other members of the large Bridgerton clan.
•
What it's about: Recruiting men of influence to champion the women's suffrage movement of 1879 England, a daring Oxford rebel targets a cold and calculating duke before their unexpected romance threatens to upend the British social order.
What's in it for Bridgerton fans: Like Bridgerton's Daphne, protagonist Annabelle Archer shows determination, refusing to be cowed by society's harsh judgments. She also melts the heart of a duke, thereby avoiding any need to choose between her principles and being fabulously rich.