By Sam Jack, sjack@newtonplks.org
Newton Public Library was pleased to welcome Grady Atwater, site administrator of the John Brown Museum State Historic Site, for an online program on Tuesday, March 16. That program, "John Brown: Public Image vs. Historical Reality," is now available for streaming on the Library's YouTube channel.
Want to learn more about John Brown? Grady recommended three books. All three are part of the collection at Newton Public Library. Click the links to go directly to each book's page in the Library's online catalog, where you can place them on hold for convenient pickup. You can also request these books by calling the Library (316-283-2890), emailing (library@newtonplks.org), or stopping in for a visit.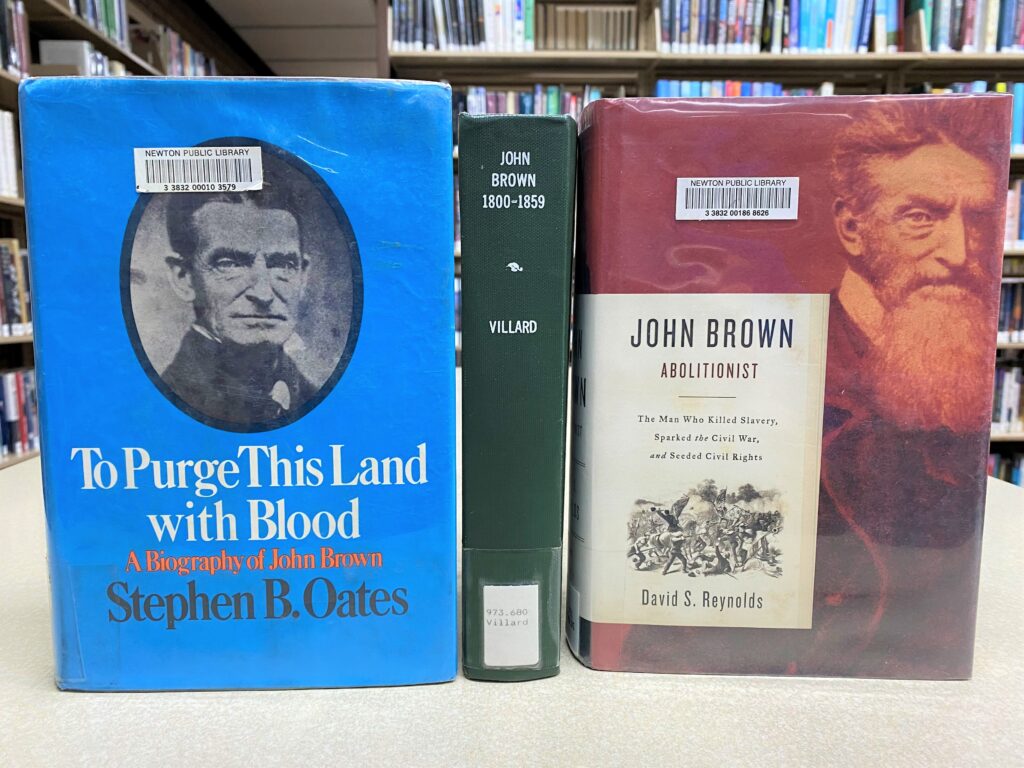 Villard, Oswald Garrison. John Brown, 1800-1859: A Biography Fifty Years After. Villard relied on original documents, plus interviews with people who actually knew John Brown, making this an essential source. However, Grady cautioned that this is a dense read. Published in 1910, this book has entered the public domain, so it is also available to read online or as a free download.
Oates, Stephen B. To Purge This Land With Blood: A Biography of John Brown. Grady recommended this book as a good "starter" biography of John Brown. When it was published in 1970, the New York Review of Books called it "The most objective and absorbing biography of John Brown ever written."
Reynolds, David S. John Brown, Abolitionist: The Man Who Killed Slavery, Sparked the Civil War, and Seeded Civil Rights. Grady called this the best book exploring the cultural aspects of John Brown and his impact on U.S. history. It is also the most recent, published in 2005. From the publisher: "When does principled resistance become anarchic brutality? How can a murderer be viewed as a heroic freedom fighter? The case of John Brown opens windows on these timely issues. Was Brown an insane criminal or a Christ-like martyr? A forerunner of Osama bin Laden or of Martin Luther King, Jr.? David Reynolds sorts through the tangled evidence and makes some surprising findings."