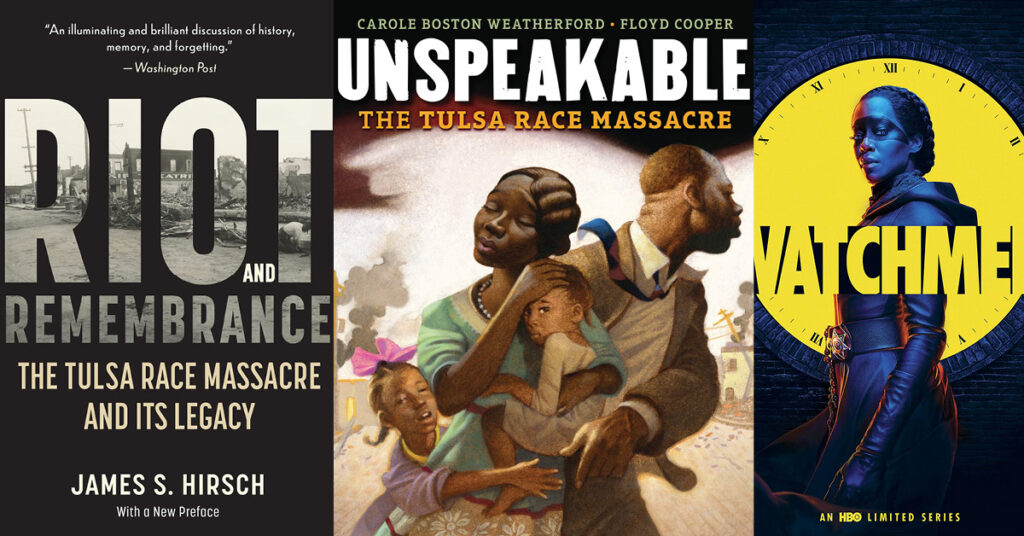 By Sam Jack, sjack@newtonplks.org
Monday, May 31, 2021, will mark the 100th anniversary of the Tulsa Race Massacre. Mobs of White residents attacked and razed the Greenwood District of Tulsa, also known as "Black Wall Street," killing and injuring hundreds of Black residents, and destroying a thriving community overnight.
This happened just a three hour drive to our south. Yet many of us born later in the 20th century – even many of us born in Oklahoma – had never heard of the event until relatively recently. Efforts to cover it up or downplay its severity started in the immediate aftermath, while countervailing efforts to bring the full story to light did not pick up steam until the early 2000s.
Newton Public Library's collection includes fiction and nonfiction works that tell the story of the Tulsa Race Massacre.
• Journalist James S. Hirsch wrote Riot and Remembrance: The Tulsa Race War and Its Legacy (2002). Hirsch examines the factors that caused the massacre and traces the impact of the event in the ensuing decades, both on individual survivors and on Tulsa at large.
• A longtime Tulsa World reporter, Randy Krehbiel focused on the role of newspapers and media in Tulsa 1921: Reporting a Massacre (2019). Krehbiel read deeply in the archives of the Tulsa World, the Tulsa Tribune and other papers, tracing public opinion about the massacre and examining how the papers "helped solidify enduring white justifications for it."
• Parents looking for a picture book to read with their children should borrow Unspeakable: The Tulsa Race Massacre (2021), by Carole Boston Weatherford and Floyd Cooper. The authors pair lyrical language and evocative illustrations to portray the Greenwood community's achievements and dreams; the dashing of those dreams; and the hope for reconciliation and rejection of hatred and violence. Children (and adults) aged 7+ who would like to learn more can also borrow The Tulsa Race Riot, part of the "Freedom's Promise" series by Duchess Harris.
• Teens and adults may be interested in Dreamland Burning, a young-adult novel by Jennifer Latham. Two teens narrate the story, alternating between between linked narratives of present-day Tulsa and the same city at the time of the race massacre. The Black-owned Dreamland Theatre seated 750 and was destroyed in 1921.
• HBO's 2019 limited series Watchmen, available to borrow on DVD, covers a lot of ground in its nine episodes. Unlike the comic books on which it is based, the TV show focuses on racist violence in an alternative modern-day Tulsa. Its first episode opens on a shockingly realistic depiction of the 1921 race massacre, and a survivor of the massacre becomes a key character in the series. In 2020, Watchmen won 11 Emmy Awards, the most for any show that year.