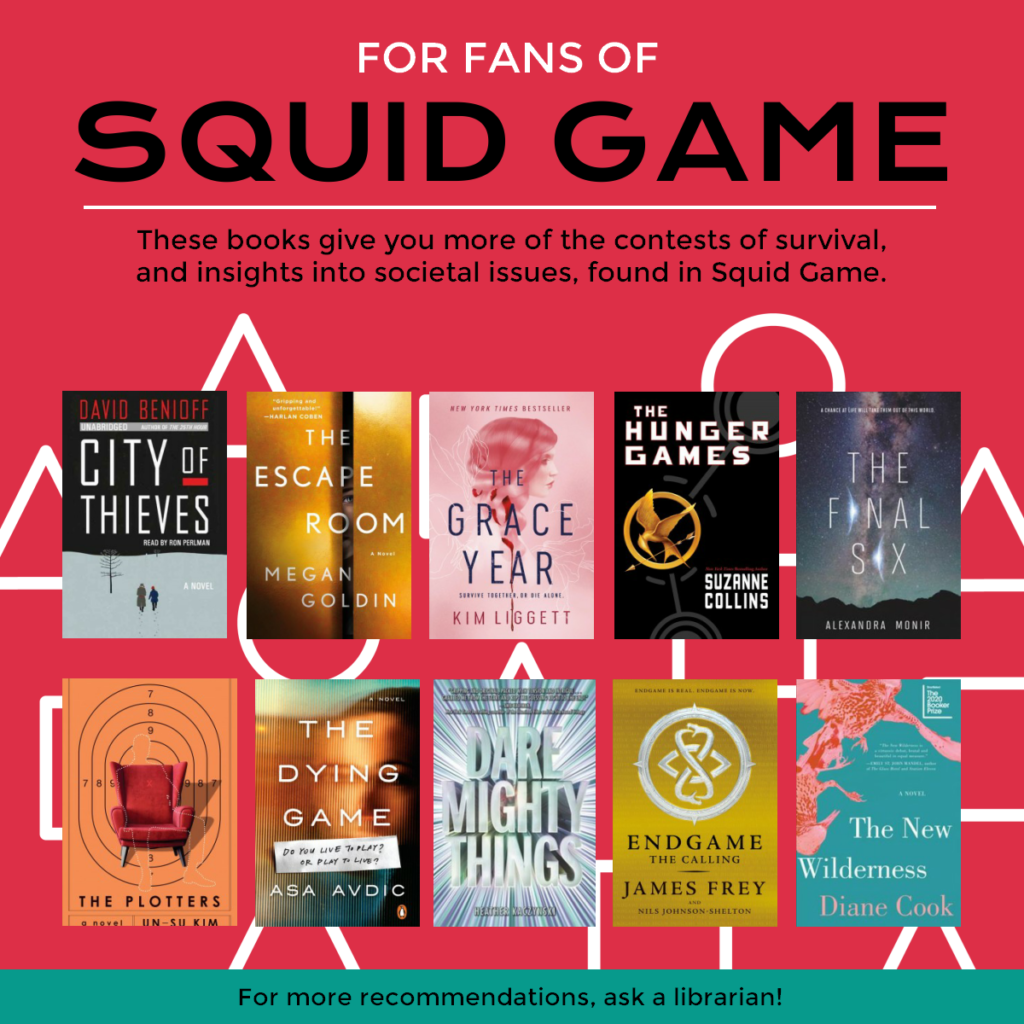 Netflix's Korean-language drama "Squid Game" has become the top-rated TV show in nearly 100 countries. If you can't get enough of deadly games – and social satire – give these books a try!
Click the title links to go directly to each book's entry in the online catalog. You can use log in and use the catalog to place books on hold for convenient pickup.
Benioff, David. City of Thieves. Documenting his grandparents' experiences during the siege of Leningrad, a young writer learns his grandfather's story about how a military deserter and he tried to secure pardons by gathering hard-to-find ingredients for a powerful colonel's daughter's wedding cake.
Goldin, Megan. The Escape Room. Ordered to participate in a corporate team-building exercise that requires them to escape from a locked elevator, four ruthless Wall Street high-flyers struggle to put aside rivalries shaped by workplace intimidation, deception, and sexual harassment.
Liggett, Kim. The Grace Year. Dreaming of a life outside the strict society that criminalizes teen girls and banishes them into the wild to be "purified," 16-year-old Tierney discovers that many of the banished girls are being poached and sold on the black market.
Collins, Suzanne. The Hunger Games. In a future North America, where the rulers of Panem maintain control through an annual televised survival competition pitting young people from each of the twelve districts against one another, sixteen-year-old Katniss's skills are put to the test when she voluntarily takes her younger sister's place.
Monir, Alexandra. The Final Six. Surrounded by strangers all competing for one of the six slots to travel to Jupiter's moon, Europa, Naomi, an Iranian-American science genius, finds a friend in Leo, an Italian championship swimmer, as the training tests their limits.
Kim, Un-Su. The Plotters. In an alternate-reality Seoul, South Korea, where assassination guilds compete for dominance, Reseng uncovers a scheme set into motion by a trio of young women, forcing him to decide if he will remain a pawn of the plotters who control the city's criminals.
Avdic, Asa. The Dying Game. In a near-future Orwellian state, seven people are brought to a remote island and have forty-eight hours to solve a staged murder with the winner gaining a top-secret intelligence position.
Kaczynski, Heather. Dare Mighty Things. In order to secure a spot on a mission to space, teen Cassie must compete with others in a series of rigorous mental and physical tests, but as the launch date nears, she worries that the mission's true objective is being kept from her.
Frey, James. Endgame: The Calling. After preparing their entire lives, twelve teenagers must come to terms with the arrival of the life-or-death game that will allow them to save a select group of people from the end of the world.
Cook, Diane. The New Wilderness. A mother desperate to save her dying daughter in a world ravaged by climate change joins a hunter-gatherer initiative to test humanity's capacity to survive in the wilderness without destroying it.