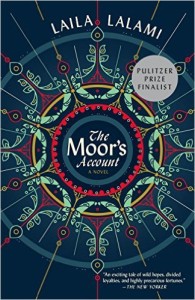 Steve Richards reviews The Moor's Account by Laila Lalami.
Variously said, history is written by victors, survivors and dominant cultures. Fortunately, contrasting stories may be available from research in many disciplines of science and humanities. Sometimes the evocative and truthful stories are told by historical novelists.
The Moor's Account, by Laila Lalami, is a wonderful example. It may be especially interesting if you enjoy historical novels that pass near the Kansas landscape. It takes the sense of place and genuine character of Don Coldsmith's Spanish Bit Saga, Tallgrass or Southwind and goes steps beyond.
In the early 1500's, an expedition ventured across New Spain from La Florida to the area we now call New Mexico. The author was puzzled by what was omitted from the first-person journal of Álvar Núñez Cabeza de Vaca. He was one of four survivors from the ill-fated group that set out with 300 men. Cabeza de Vaca was one of three Castilian gentlemen who were well documented. Oddly, the fourth survivor was barely mentioned.
"The fourth [of us]," says Cabeza de Vaca, "is Estebanico, an Arab Negro from Azemmour."
That is all we were told about a Moorish slave who endured the same eight years of ordeal.
Laila Lalami brings a storyteller's justice to the memory of Estebanico. Her mastery of creative writing and linguistics grafted flesh over the bones of research. Estebanico and companions come to life. Memories of their old world helped them cope with continual challenging encounters in the new world. Those same memories and experiences challenge us with personal glimpses of worlds and cultures most have not imagined.
Lalami seems particularly well suited to weave this story. She is Moroccan-American, educated in England and California, with advanced degrees in linguistics. She now teaches creative writing. She knows the characters personally.
One literary device was particularly intriguing. In a looping style, a scene might include sprinkles of Arabic or Spanish, without explanation. The meaning seemed reasonably obvious from context. Later, returning to the scene, that interpretation was confirmed. This enriched the authentic experience of first encounters with peoples and cultures.
We could let our imagination connect the hard-earned insights of Estebanico with later history suggested by ruins and legends in Kansas. El Cuartelejo, north of Scott City is one example. Let yourself join the adventure. You may be surprised where it takes you!
Place a hold on Newton Public Library's copy!