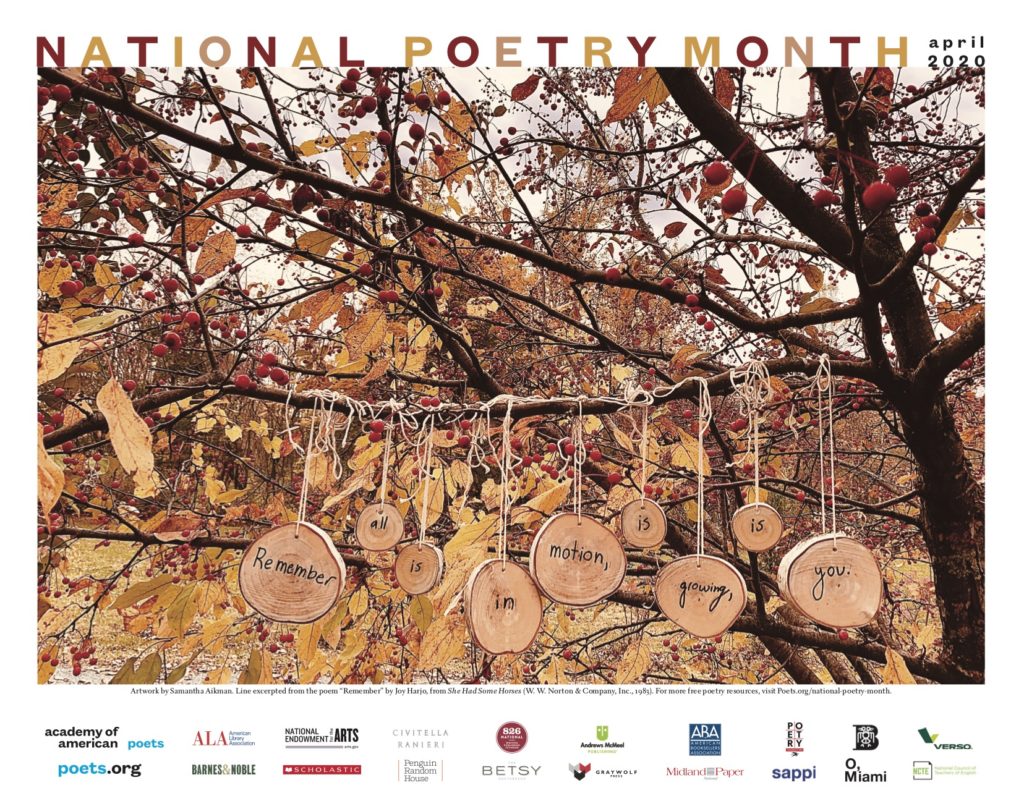 By Sam Jack, sjack@newtonplks.org
Each year, libraries, schools, and individual poetry-lovers celebrate April as National Poetry Month. That's why Newton Public Library's staff chose "Read a Book of Poetry" as the April challenge for NPL's 2020 Reading Challenge.
When we planned out the 2020 Reading Challenge, none of us knew that April would dawn as the "cruelest month," with COVID-19 comprehensively disrupting American life. With so much uncertainty and hardship, there couldn't be a better time to give poetry a try.
Whether you read a book of poetry this month or just skim over a poem or two, open yourself up to the possibility that a poet's words could bring you strength or comfort, a moment of levity or a moment of escape.
There are multiple lifetimes' worth of poetry reading, readily accessible online. Below, you'll find a selection of digital poetry resources. Looking for suggestions or just want to chat about poetry? Email Sam, sjack@newtonplks.org.
• Sunflower eLibrary: The Sunflower eLibrary includes around 100 volumes of poetry. Most are older works that are in the public domain, but you can also find newer books by Alan Shapiro, Billy Collins, Maya Angelou, Claudia Rankine, Rupi Kaur and others. Available free with your NPL card.
• Hoopla: Hoopla has more than 6,000 ebooks of poetry available for borrowing on demand, including contemporary releases by such poets as Ocean Vuong, Rupi Kaur and Natalie Diaz. As you'll see if you click on the link, you can sort browse the collection by subgenre, themes and popularity. Available free with your NPL card.
• Poets.org, the website of the Academy of American Poets, is one of America's biggest and best resources. The site's poem-a-day column features brand new poems from contemporary poet. The "Find Poems" function allows you to search by occasions (birthdays, breakups, holidays, seasons, etc.), themes (beauty, despair, cats); and forms (sonnets, limericks, pantoums). Read about poets from Kansas, or check out their Poems for Kids page.
• The Poetry Foundation publishes Poetry Magazine and makes the magazine's entire run of monthly issues, from 1912 to the present, available for free. The site also has interesting articles and essays about poetry, a large audio collection, and resources for teaching and learning.
• Poetry 180: During Billy Collins' time as U.S. Poet Laureate, he created this collection of "A Poem a Day for American High Schools." Originally intended to be read during morning announcements, the poems are brief but engaging for readers of all ages.
• Poems that resist us on the page can take on a new aspect when read aloud. The Poetry Archive features more than 2,000 audio-recorded poems, many of them read by their authors.
• Project Gutenberg: Many poems and poets are in the public domain. Project Gutenberg is a great source for Wordsworth, Whitman, Tennyson, Dickinson, etc.