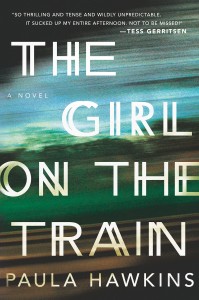 The Girl on the Train by Paula Hawkins
This next debut author has received a ton of buzz for her first book. Reviews have slated The Girl on the Train as this year's Gone Girl and said it is not to be missed. I love mystery novels and this one certainly didn't disappoint.  I found plenty of suspense and intrigue on each page.  Paula Hawkins worked as a journalist for fifteen years before turning her hand to fiction. She lives in London. The Girl on the Train is her first thriller. (http://paulahawkinsbooks.com/bio-paula-hawkins/)
The main character, Rachel, watches people from the train on her daily commute to London; she has idealized the lives of a couple she sees regularly. When she sees something unusual and then hears about a disappearance she's very eager to help the police find the missing woman.  Starting with a very familiar flash to the crime or what you think is the crime the book has you hooked from the first page.  The suspense continues with unreliable spouses, testimony, and memories keeping no one free from suspicion.  This Hitchcock-like thriller will have you on the edge of your seat.
I look forward to reading her later works.
For more information on Paula Hawkins go to http://paulahawkinsbooks.com/ . Check our catalog for book and audio book availability.
–Betsy