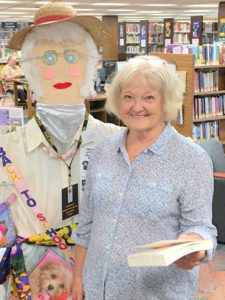 Imagine a place where you can get current popular books, newspapers, magazines, online access — FREE!
That is your public library.  I have been an avid patron of the Newton Public Library for over 45 years — enjoying current publications, classics, books on tape and now CD, as well as stimulating discussion groups. Oh, and I have taken my grandchildren to story time also!
When I read reviews of Elena Ferrante's series about best friends growing up in Naples, Italy, I went online and discovered NPL had all of them. I checked them out and really enjoyed them. When I read the list of National Book Award winners, I found the ones I wanted at NPL. Reading some of them in 7 days was a challenge but they were FREE!
One of the best experiences I have had at NPL is the TALK series sponsored by the Kansas Humanities Council.  I enjoyed The Milagro Beanfield War so much I went out and bought my own copy. I read and discussed classics, primary sources (e.g., Diary from Dixie) — all sorts of amazing books I would not have discovered on my own.  And what fun to go to discussions where we sometimes argued heatedly for our points of view!
The public library is a tremendous resource.  If you aren't familiar with it yet, go and enjoy!
–Lois B, longtime book addict and NPL patron