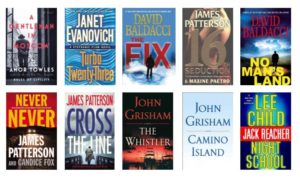 Cue the drum roll! Here's the countdown of the most circulated fiction books in 2017.
#10. Gentleman in Moscow by Amor Towles
#9. Turbo Twenty-Three by Janet Evanovich
#8. The Fix by David Baldacci
#7. 16th Seduction by James Patterson
#6. No Man's Land by David Baldacci
#5. Never Never by James Patterson
#4. Cross the Line by James Patterson
#3. The Whistler by John Grisham
#2. Camino Island by John Grisham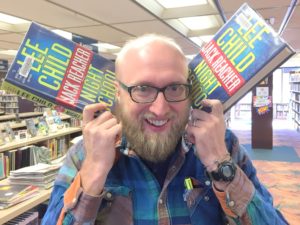 AND … cue the trumpets … are you ready?
#1. Night School by Lee Child
What can we say? Newton Public Library patrons favor mystery books.  James Patterson has three novels on the top ten list. David Baldacci and John Grisham each have two. A Gentleman in Moscow is the only general fiction book to make the list. Janet Evanovich is the only female writer with a novel in the top ten. And Lee Child took home the top honor!