Here are the Top Ten circulated titles from the Young Adult collection: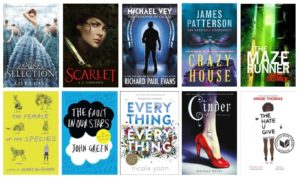 10. The Selection by Kiera Cass
9. Scarlet by A.C. Gaughen
8. Michael Vey: The Prisoner of Cell 25 by Richard Paul Evans
7. Crazy House by James Patterson
6. The Maze Runner by James Dashner
5. The Female of the Species by Mindy McGinnis
4. The Fault in Our Stars by John Green
3. Everything, Everything by Nicola Yoon
2. Cinder by Marissa Meyer
1. The Hate U Give by Angie Thomas
It's very interesting to note that six out of ten of these titles were published in 2012 or before.