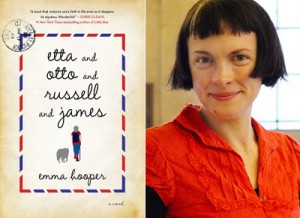 Etta and Otto and Russell and James, the debut novel from Emma Hooper, takes you on a whimsical journey of three octogenarians.  Etta, Otto and Russell have a long and complicated history spanning several decades, a war and personal tragedies. James is a coyote.
We find Etta embarking on a cross-country trip on foot to see the ocean leaving Otto, her husband, and Russell, her friend, at home on the farm in Saskatchewan. Throughout the book Etta, Otto, and Russell wrestle with their pasts and come to terms with their presents on this journey across time, trauma, lucidity and continents.
The end of this book was very abrupt and left much to my own interpretation. It could be a really good book club book, with lots to discuss stylistically and about the ending.
If you enjoyed this book you may want to try A Man Called Ove by Fredrik Backman or The Unlikely Pilgrimage of Harold Fry by Rachel Joyce.
Author Note:
Raised in Alberta, Canada, Emma Hooper brought her love of music and literature to the UK, where she received a doctorate in Musico-Literary studies at the University of East-Anglia and currently lectures at Bath Spa University. A musician, Emma performs as the solo artist, Waitress for the Bees, and plays with a number of bands. She lives in Bath, UK, but goes home to Canada to cross-country ski whenever she can. (http://authors.simonandschuster.com/Emma-Hooper)