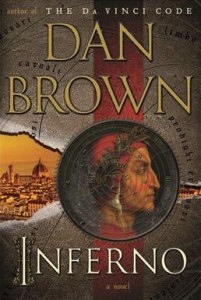 Title: Inferno
Author: Dan Brown
Series: Robert Langdon #4
Published: 2013
Pages: 461
Three Words that describe the book: Adventurous, Historical, Scientific
Why I picked it: I have never read a Dan Brown book before and this one really caught my eye. I really enjoyed reading Dante's Inferno in college and wanted to see how Mr. Brown incorporated this classic work in his adventure/thriller novels.
30-Second Synopsis: Robert Langdon wakes in a hospital with and injury to his head and unable to remember how he got there or what happened over the last few days. Immediately after waking he is almost gunned down again in the hospital. Now Langdon is on the run from people who want to kill him. He doesn't know who they are or why they want him. But, he soon finds himself hunting an adversary that uses Dante's Inferno to hide clues to his ultimate catastrophic goal. With enemies at every corner who will Langdon trust? Will time run out before Robert Langdon can put the puzzle together and save humanity one more time?
What I thought about it: I always forget how much I love adventure fiction until I read adventure fiction! Inferno was a very quick read and flowed very well. Dan Brown mixes classic works of literature and art with modern scientific concepts, making a great blend for adventure fiction.  His use of both the W.H.O. and (of course) a shady secret organization gives the novel its much need conspiracy that propels it forward.  At several points in the novel Mr. Brown jumps into Langdon's past to explain why he knows a particular fact.  I found that these segments slowed down the flow of the narrative, which I found disappointing. The audience knows that Langdon is a Symbology expert; it is mentioned multiple times throughout the novel. I found it unnecessary to explain Langdon's knowledge of obscure facts about art and history.  That is part of his profession and should be expected! It doesn't help that these descriptions seem to happen in the middle of a chase scene or before another clue is revealed.  These scenes felt disruptive and disjointed. I found myself skimming these parts to get back to the meat of the book.  I am aware that I will have to read more Dan Brown novels to have a better judgement of his books, and maybe I should reevaluate this book after I have read more. Overall I was very impressed with this book and have high hopes for his earlier novels.
Who might like this novel: Readers who find themselves loving Adventure Fiction or Historical Fiction should find enjoyment out of this novel as well as readers who like books with futuristic science concepts. Readers who also like authors like Clive Cussler or James Rollins should enjoy Dan Brown's work..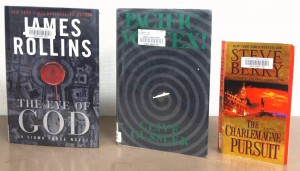 Three books to try if you liked Inferno by Dan Brown:
Pacific Vortex by Clive Cussler
Charlemagne Pursuit by Steve Berry
Eye of God by James Rollins