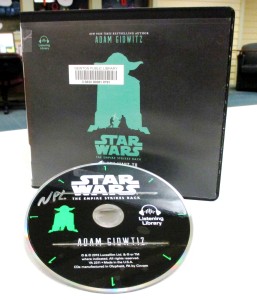 Nathan Carr, IT Supervisor, reviews an audio book for your holiday travels.
Star Wars : The Empire Strikes Back, So You Want to be a Jedi?
By Adam Gidwitz; Read by Marc Thompson
This is The Empire Strikes Back as I have never encountered it before. This book is written in 2nd person narrative with interruptions including instructions on how to become a Jedi using things like meditation and strength building. The 2nd person narration can be distracting and degrading at times but this book is designed more for children and not so much for parents. I would suggest gritting your teeth because it does get better as the author gets settled into the story.
The story line does follow the classic Star Wars: Empire Strikes Back plot line with great little bits added in here and there for perspective and nothing ran counter from the current cannon of Star Wars lore.
Marc Thompson delivered a marvelous performance of the classic voices we all grew up loving. I was very impressed with his impersonation of all the characters and the inflection echoed the original performances so well I wondered at points if he had pulled audio directly from the movies.
I listened to this book out of sequential order and I do not regret it one bit. I do not believe I lost any of the back story because it really is the faithful retelling of one of my favorite childhood movies with the twist of being in 2nd person narrative for young children looking to learn more about Star Wars.
As you make your travel plans this holiday season I highly recommend loading up on audio books on CD, MP3,  Playaway and downloadable audio files. Audio books can inspire and hold young imaginations in a way that concentrating on the act of reading the written word cannot in the early years. If the idea  of being captive in a prone position on a long car ride sends your young ones squirming, perhaps letting their little minds escape on a journey to a universe a "long time ago and far, far away" could be an experience that becomes a lifelong memory.
But you do not have to take my word for it. Check it out at your local library, our website catalog is always available to help you select the titles of your dreams. http://catalog.newtonplks.org/polaris/Search
–Nathan