Audio Readers!
Here's what circulated the most in 2017 in CD format: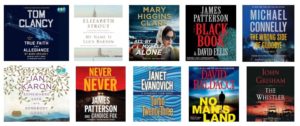 10. Tom Clancy: True Faith and Allegiance by Mark Greaney
9. My Name is Lucy Barton by Elizabeth Strout
8. All by Myself, Alone by Mary Higgins Clark
7. The Black Book by James Patterson and David Ellis
6. The Wrong Side of Goodbye by Michael Connelly
5. Somewhere Safe With Somebody Good by Jan Karon
4. Never, Never by James Patterson and Candace Fox
3. Turbo Twenty-Three by Janet Evanovich
2. No Man's Land by David Baldacci
and, cue the percussion …
1. The Whistler by John Grisham
In Playaway, (those amazing players, about the size of a deck of cards, that have one book on them), here are the top ten most circulated titles: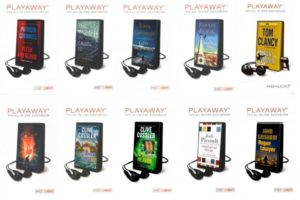 10.  Flesh and Blood by Patricia Cornwell
9. The Woman in Cabin 10 by Ruth Ware
8. Gray Mountain by John Grisham
7. The Whole Town's Talking by Fannie Flagg
6. Threat Vector by Tom Clancy with Mark Greaney
5. The Hidden Oracle by Rick Riordan
4. The Solomon Curse by Clive Cussler
3. The Eye of Heaven by Clive Cussler
2. Small Great Things by Jodi Picoult
and, cue the brass band …
1. Rogue Lawyer by John Grisham
We do like our John Grisham novels! And James Patterson and Clive Cussler and Tom Clancy! Also, since Young Adult titles are in the same audio collections as Adult titles, it's of note that Rick Riordan's "The Hidden Oracle" appeared at #5 on the Playaway countdown.