The following books were the most circulated nonfiction books of 2017: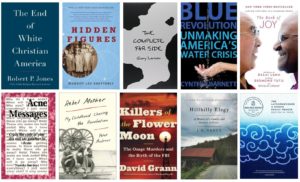 10. The End of White Christian America by Robert P. Jones
9. Hidden Figures by Margot Lee Shetterly
8. The Complete Far Side by Gary Larson
7. Blue Revolution: Unmaking America's Water Crisis by Cynthia Barnett
6. The Book of Joy: Lasting Happiness in a Changing World by Dalai Lama and Desmond Tutu
5. Acne Messages by Naweko San Joyz
4. Rebel Mother: My Childhood Chasing the Revolution by Peter Andreas
3. Killers of the Flower Moon: the Osage Murders and the Birth of the FBI by David Grann
2. Hillbilly Elegy: a Memoir of a Family and Culture in Crisis by J. D. Vance
1. The Latehomecomer: a Hmong Family Memoir by Kao Kalia Yang
Two of the books on this list were community reads books. The Newton community does enjoy group reading experiences.